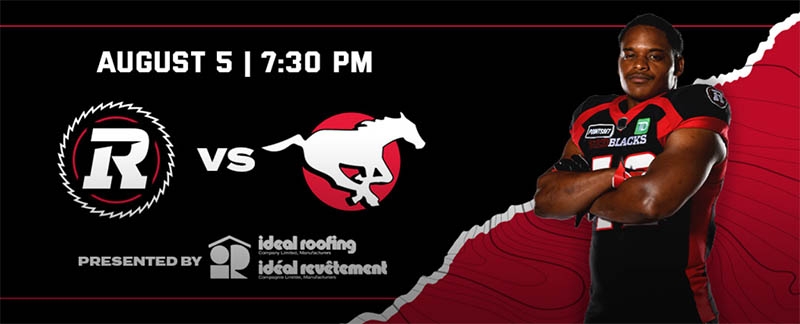 Ottawa REDBLACKS Legacy Night
When: Friday 5 August 2022
Where: The stadium at TD Place
What time: 7:30 pm
Recognition: From $25 • Click here for tickets
The Ottawa REDBLACKS battle the Calgary Stampeders for Legacy Night at The Stadium! Relive the nostalgia and join the 2016 Gray Cup Championship Team members to encourage a new generation of REDBLACKS. Enjoy $5 Budweisers (355 ml) until kick-off at the Corona Bar at Gate 1 with live music from Highway Sunrise.
Photo: Ottawa REDBLACKS
---

Greek Festival in Ottawa
When: August 5 – 14, 2022 (weekends only)
Where: 1315 Prince of Wales Drive
What time: 4.30 p.m. to 10 p.m.
Recognition: Free
The full open-air Ottawa Greek Festival is back for two weekends, OPA!! Get ready for delicious Greek food, live music, dancing and of course – plate breaking! Don't miss the nightly Zorba Show at 8:45 PM. Click here to see the full program.
Photo: Greek Festival in Ottawa
---

Barrhaven Summer Fun Fair
When: Saturday 6 August 2022
Where:Fallowfield Station Park & ​​Ride (Woodroffe Avenue and Fallowfield Road)
What time:11 a.m. – 2 p.m.
Recognition: Free
Head to Barrhaven Summer Fun Fair for a fun day of food, face painting, games, music, activities, balloon artists, henna, bouncy castle and more! See a fire truck up close and the Barrhaven Lions Club Train in action! Support the Barrhaven Food Cupboard with the silent auction and raffle and buy lunch at the BBQ to support the Black Widow Cheerleading Team.
Photo: Barrhaven Summer Fun Fair
---

Art in Strathcona Park – Exhibition and Sale
When: August 6, 2022
Where: Strathcona Park, 25 Range Road
What time: 10 a.m. – 4 p.m. (rain or shine)
Recognition: Free
Spend a day in the park enjoying one of the area's most fun outdoor events with many established artists and craftsmen plus yet-to-be-discovered talents coming together to sell their work directly to the public and raise public awareness about mental illness*. Art in Strathcona Park also offers jewelry and pottery, to name a few, and will feature a silent auction and barbecue.
*Art at Strathcona Park is a fundraising and public awareness event sponsored by the Mental Illness Caregivers Association (MICA). PHOTO: OLM Staff
---

The 75th Navan Fair
When: Thursday to Sunday 7 August 2022
Where: 1279 Colonial Road, Navan, Ontario
What time: August 4: 4pm – midnight; August 5 and 6: 8 am – midnight; August 7: 8 a.m. to 5 p.m.
Recognition: Adult entrance gate $12,kids (4-12) $3
Fun for all the family, the Navan Fair kicks off this weekend, and it's everything you'd expect from a country fair and more! Don't miss the Truck & Tractor Pulls, the Demolition Derbies, the Midway, the Antique Tractors & Machinery, the animals, the live music under the Dome (additional charges may apply) and much more! Click here for the full program.
Photo: Navan Fair
---

Ottawa Atletico vs. FC Edmonton
When: August 7, 2022
Where: Stadium at TD Place
What time: 2:00 p.m.
Recognition: From $15 • Click here for tickets
Head to TD Place for the Ottawa Atletico's Meat Up Match, provided by Ottawa Valley Meats. One lucky fan will win Meat For A Year. Stick to the theme of the encounter, catch the Weiner greyhound racing at half and take advantage of Toonie Hot Dogs throughout the match.
Photo: Ottawa Atletico
---

Bobby Knauf at Yuk Yuks
When: August 4-6, 2022
Where: Yuk Yuks Ottawa, 100 Kent Street. At the Marriott Hotel
What time: Thursday – Saturday at 9 pm
Recognition: From $15 • Click here for tickets
Bobby Knauff, originally from Thunder Bay, was a semifinalist in SiriusXM Canada's Next Top Comic (2013), won the 2012 Toronto Comedy Brawl, has had numerous appearances on Much Music and MTV Canada, and has toured Canada headlined with Yuk Yuks . Bobby can be seen in many commercials and guest roles on television and can be heard as a voice actor in many cartoons. He is also half of the sketch duo "The Two Sues" with Josh Stone and is a puppeteer with his puppet mate Andre.
---

A company of fools
When: nightlyuntil August 13, 2022 (except Sundays)
Where: Thursday, August 4 – Strathcona Park (Sandy Hill); Friday, August 5 – Raven Park (Carlington); Saturday, August 6 – Clare Gardens (Westboro)
What time: Arrive at 6:30pm to get a good spot
Recognition: Pay what you can
A Company of Fools is approaching its penultimate week of performance the storm in the park. Grab the family, pack a picnic, and head to your local park to catch a performance. If the enthusiasm of the cast means anything, you won't be disappointed.
Photo: Justin Van Leeuwen
---

Casino Lac Leamy Fireworks
When: Every Wednesday and Saturday from 3 to 20 August 2022
Where: Canadian Museum of History
What time: The site opens at 6 p.m
Recognition: From $14 • Click here for tickets
On Saturday, August 6, enjoy the fireworks of Les Grands Feux, Musicals, presented by France. This year, take advantage of the free bicycle parking in front of the Maison du Citoyen every evening of FEUX and thenuse one of the two new entrances (Laurier-Victoria Entrance or Laurier-Alexandra Bridge Entrance) and follow the immersive light path to the event spacein the backyard of the Canadian Museum of History.
Photo: The Great Fires
---

Imagine Monet: The Immersive Exhibition
When: Until August 14, 2022
Where: EY Centrum, 4899 Uplands Drive
What time: timed in trance
Recognition: From $31 • Click here for tickets
Immerse yourself in the Impressionist paintings of Claude Monet, the father of Impressionism: a modern painting style that celebrates nature and the outdoors, not just as a background, but often as the subject itself. William Seitz, the curator at MoMA and curator of the Monet exhibition, has removed the frames from the paintings and invites viewers to enter the paintings.
Photo: Imagine Monet