All praise is for Allah Almighty. May the peace and blessings be upon the Messenger of Allah, his family, the faithful companions and all those who follow them.
Based on the lunar sighting information meeting the global moon sighting criterion, the Council of Imams of Ottawa-Gatineau hereby confirms that there were no credible moon sighting reports on Saturday 29th Ramadan (2022-04-30), therefore we will be 30 days before Ramadan.
Accordingly, the first Shaw-waal will take place on May 2, 2022 and we will celebrate Eid ul-Fitr this Monday in Sha'ā Allah.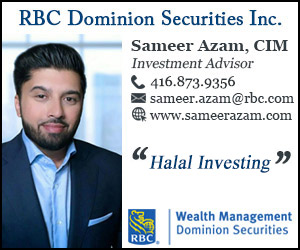 We remain forever grateful to Allah (SWT) that by His blessings we resumed our prayers in masajid according to tradition and were able to offer Taraweeh and Qiyam together. We ask Allah (SWT) to accept all our fasting and worship during the month and direct us to continue in the coming days and months.
The day of Eid is a day of celebration by feeling and expressing happiness. While we celebrate Eid within our family and friends, we should not forget the elderly in the community, living alone or having no social network. We urge you to include these families in your celebrations on this most blessed occasion. Reach out to such people and bring joy to their day too. There is no better day than Eid to mend broken relationships from the past. As situations around us continue to change and become more challenging for some, let's
submit to Allah (SWT) for His help and trust only in His Mercy.
The Council hereby extends a very happy and joyful Eid greeting to all Muslims and Canadians across the country and wishes you all a prosperous and healthy future filled with love and remembrance of Allah along with the teachings of the last Messenger Muhammad (SAW — Peace be upon him). Let us encourage each other to earn the pleasure of Allah (swt) through acts of piety, righteousness and service to humanity.
The Council of Imams of Ottawa-Gatineau (CIOG)
Signed by the members of the Council (in alphabetical order):
Imam Ahmed Limame – The Outaouais Islamic Center Imam Antwerp Malam – Jami Omar
Imam Ismail Al-Batnuni – AMA (Masjid Al-Rahmah)
Imam Mohammad Badat – Masjid Bilal
Imam Muhammad Suliman – Ottawa Muslim Association
Imam Myloud Tajri – Aylmer Mosque
Imam Owais Tilly – Jami Omar
Imam Rashid Al-Qasmi – Masjid Taqwa
Imam Samy Metwally – Islamic Association of Gloucester
Imam Sikander Hashmi – Kanata Muslim Association
Imam Zijad Delic – South Nepean Muslim Community (SNMC)