In a world too full of heartache, can I be this sad about a store closing?
Let me check. YES. SORRY BUT DUH† Yes, absolutely yes. It's not even a question.
Well then. I suppose my gut screams what my brain resists. I can indeed feel melancholic. We don't judge heartache by a curve, here. Each experience occupies its own space.
The retailer in question is The Children's Book Shop in Brookline. It is the oldest independent children's bookstore in the Boston area and one of the oldest in the country. Opened in 1977, it has kept children reading, thinking, laughing and fantasizing for 45 years.
As the pandemic and other factors have made the business unsustainable, we are losing a gem. A few weeks ago, the owner, Terry Schmitz, announced that the store will close forever on Saturday, April 30. That happens to be the Day of the Independent Bookstore. Which just makes me want to cry some more.
The Children's Book Store is my favorite store on earth.
How could it not? This shop practically raised my kids.
We were lucky. Our condo was a short walk from this nearly 900-square-foot home away from home, and we took that short walk a lot.
We were loyal because this is no ordinary store. Schmitz and her collaborators know children's literature through and through, and they celebrate the unique madness and wonder of each individual child.
Normally, as soon as we entered the store, Schmitz or one of her employees would look up, smile, and say something along the lines of "Oh, hello! Just so you know, here's three new books on [insert topic that is the current focus of my kids' obsessions]†
And I witnessed them having the same kind of conversation with customer after customer after customer.
Even more impressive? It wasn't just a topic they were considering. Remembering that my boys would especially go crazy over books about things like trains or baseball or presidents might not be that phenomenal. But remember nuance? That's special. In our case, the store understood the precise subset of humor and puns that rocked my sons (and I), and would point us in great witty literary directions time and time again.
Look, they didn't just sell books. They led us to our own discoveries in ways that hit deep and resonant chords. What this devoted attention does to a child's mind is immeasurable. Children feel known, respected, cherished, encouraged and strengthened. The planet is a more excellent place for children and for everyone, the more places like The Children's Book Shop shower them with so much love. Because what's love if you don't pull someone aside and say, "As soon as I saw this book, I thought of you!"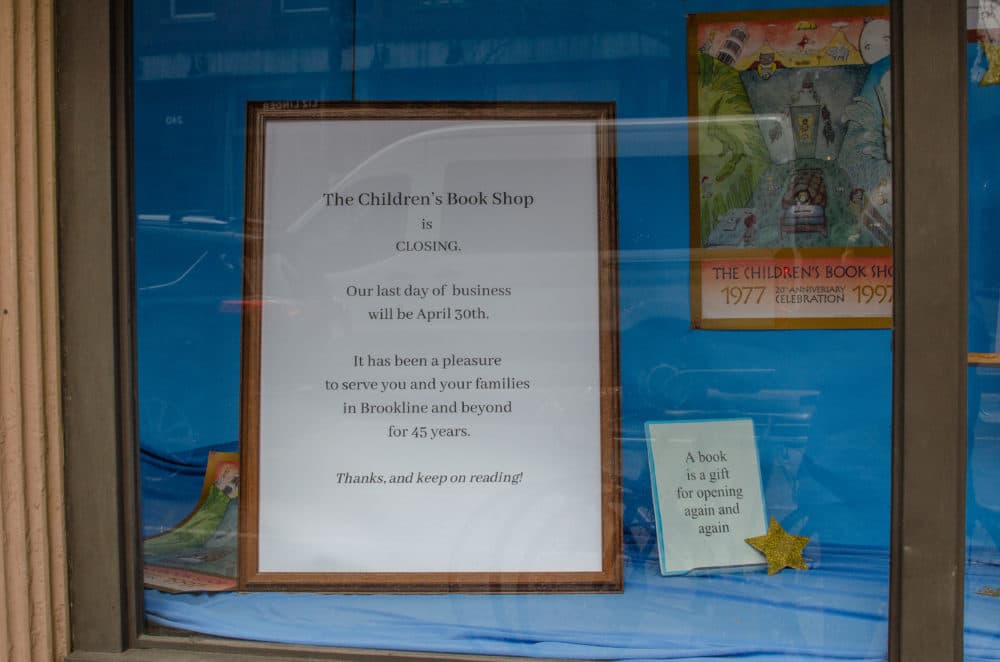 You might think that the store is very similar to a high-class nursery in a public library. And you're right, and that in itself is a lot of praise. Of course this was a business, and Schmitz wanted to sell books, and she did, and with success. But her background is in libraries. That's one of the reasons she and her staff have created the environment I've often thought, "Read first, pay later — or not, it's all good." They sincerely welcomed browsers and curious souls into the store, to soak up the joy of the pages. Purchases can be made as soon as the buyers are ready. It's a nice atmosphere.
Picture books and cardboard books and chapter books and fact books and novels and graphic novels and poetry anthologies and easy readers and narrative nonfiction and biographies and reference books and so on and so forth… The Children's Bookshop offered a full range of ways to get lost, then be found, in word and image.
However, and this is the key, the store only had the best. Curation has been central to the mission for decades. Before placing orders, Schmitz read every book the publishers offered, and if a book didn't meet her quality standards — regardless of whether it would stand out in mainstream markets and sell well in bookstore chains — she wouldn't pick it off the shelves of the bookstores. children's bookstore. In this port, built on relationships and trust, that integrity made all the difference.
No doubt some of you will be tempted to tell me that maybe I should get some perspective. Maybe you roll your eyes and remind me that it's-just-a-store/retail-is-difficult/trade-halls-come-and-go/and-excuse-me-might-be-you aware that other-huge-bigger-problems need attention.
Whose deed.
But this one store, this cozy, mind-blowing, cheerful, compassion-enhancing, language-enhancing, art-appreciating resource, has served as a companion on generations' reading journeys. It has changed lives for the better. The loss hurts.
Another reason for the pain? There has been more to the mix than reading and shopping. The store's attributes are many: the annual children's bookstore poetry competition for the K-8 set, whose popularity was unprecedented; visit the author and illustrator children will never forget; the dazzling changing shop windows that made up the most heartwarming part of Brookline Village's streetscape; and I suppose I can now mention the free gifts that the staff sometimes slips to the customers, such as our family's cherished cardboard monument "Stinky Cheese Man", and a preview copy of a highly anticipated installment in the "Artemis Fowl" series. and a cassette (a cassette!) of dark and hilarious songs by the core of The Magnetic Fields called "Tragic Treasury" to accompany the much-loved collection "A Series of Unfortunate Events".
Because what's love if you don't pull someone aside and say, "As soon as I saw this book, I thought of you!"
It's been years since my own kids were "in the demo" for The Children's Book Shop, but I kept stopping by our old stew to buy gifts for others. Every time I stepped in, a mysterious maternal muscle memory has always sent me straight to the sections my family checked first. Somewhere in my middle-aged brain I can almost hear my little boys chirping, "Mommy, look! The new Captain Underpants! And a baseball encyclopedia!" I feel a twinge, and then utter bliss, because of what we were so lucky to have shared.
That's kind of how I feel right now. I have blurry eyes. Okay, fine, the "hazy-eyed" type that I suppose would be more accurately expressed as "sobs." But I am grateful for a store that is a community and a sacred sanctuary. The Children's Book Shop has enhanced countless people's experiences with story after story, right up to – and even after – the last page.
May we all live happily ever after. The end. Now let's read it again.
Follow Cognoscenti on Facebook and Twitter†