tbecause of the black heavy curtains under the ground at Mona, it takes a while before you come to your senses. Ash, dust and ocher frame a landscape of utter degradation, with blackened logs and charred, severed stumps, and the fleshy, smoky scent of bushfire searing your nostrils.
At the back of the space is a small burnt-out shack, filled with spiky new work by acclaimed Australian artist Fiona Hall, who – with her collaborator AJ King – is behind one of the gallery's three large installations opened this weekend for Dark Mofo Festival.
Titled Exodust – Crying Country, it includes Hall's meticulous pewter sculptures of decimated trees and penises, and the evolving work Crumb: An Atlas of Ruins of our Time, for which the versatile sculptor slices scenes of global tragedy (Ukraine is still a work in progress, she says).
But the fractured landscape that surrounds Exodust is just as much part of this show – and it wouldn't have happened without King: a Bigambul/Wakka Wakka cultural practitioner born in Lutruwita, Tasmania, who brought members of his family and the Tasmanian Indigenous community invited to participate.
"What's behind the power of this imitation of the land is the people who spent the time harvesting it," says King, as we slowly walk through the gloomy room. "We were hijacking sections in the old country. I had my family down there, my kids, a lot of people from the community down there, and we just stood on remnants of stumps that were from trees that were probably 400 or 500 years old."
For three weeks they collected the burnt soil, Eucalyptus dominans stumps and branches, and lakri (human ferns), which they carried to the gallery and tied the devastated land back together. It's a multisensory recreation of the trauma the forestry industry continues to inflict on lutruwita: first from the logging, then from the very severe burns set to devour the aftermath.
"These trees had suffered significantly over several generations, from when white men first entered that land," King says. "So to be in this country that had just been violated, not just once but consistently — burned in ways that have permanently marked the landscape — we felt that pain every day we went down there."
Hall, who moved to Tasmania seven years ago, says "forest genocide is in the Tasmanian psyche".
"Many visitors from elsewhere may be aware of the logging, but not of the burn after logging; the pyre that takes place after the logging. It's like rubbing salt into a wound."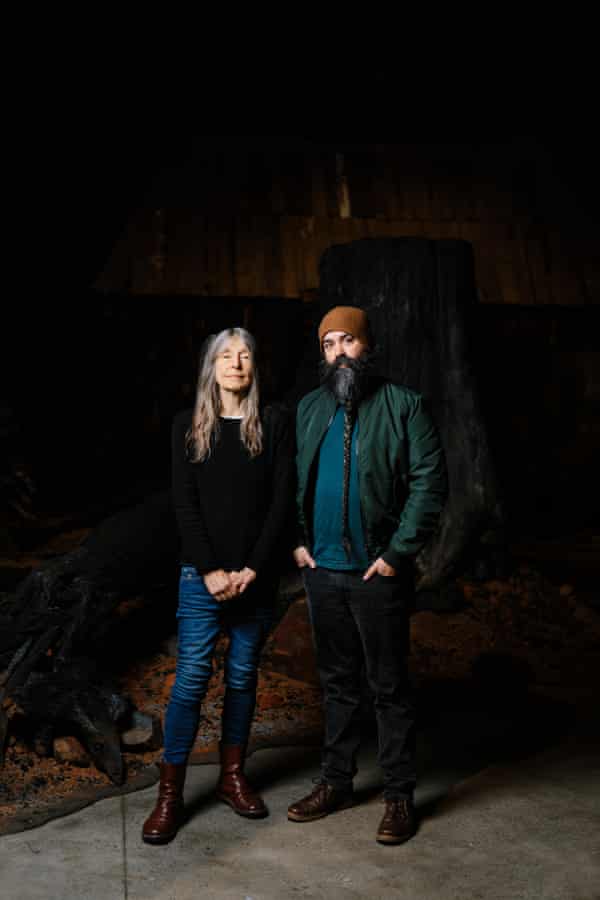 It's the second year in a row that Hall has partnered with King for Dark Mofo. Last year, the festival endured public outcry over a proposed artwork by Spanish artist Sierra Santiago that required the blood of First Nations people; amid calls for boycotts, some performers withdrew from the program — but Hall instead made a last-minute pivot and handed over her space to King and his community.
Together they built a bark pakana cremation hut in an abandoned storefront, where the local Aboriginal community gathered to mourn, sleep, talk and weave. "It was a very powerful thing to do, to provide the space," says King, who still sounds surprised that it came together so quickly. "The only thing that fills my heart with pride is the ingenuity of our people. We always look out for each other."
As we walk slowly through the blackened forest, voices of indigenous elders and knowledge keepers from Tasmania, New Zealand and Papua New Guinea mumble through the dead trees. In recordings, they talk about their culture, their families and the impact of colonization on the land – and about cultural burn: a sustainable, traditional way to manage land "so that this kind of degradation doesn't happen," King says.
We arrive at the hut, built from swampy bark harvested from the land, and old burnt wood given a second life. In fact, almost everything in this show is recycled: Hall's multifaceted career is defined as much by her craftsmanship as by her passion for recycling. ("We all love going to the tip shops!" she enthuses.)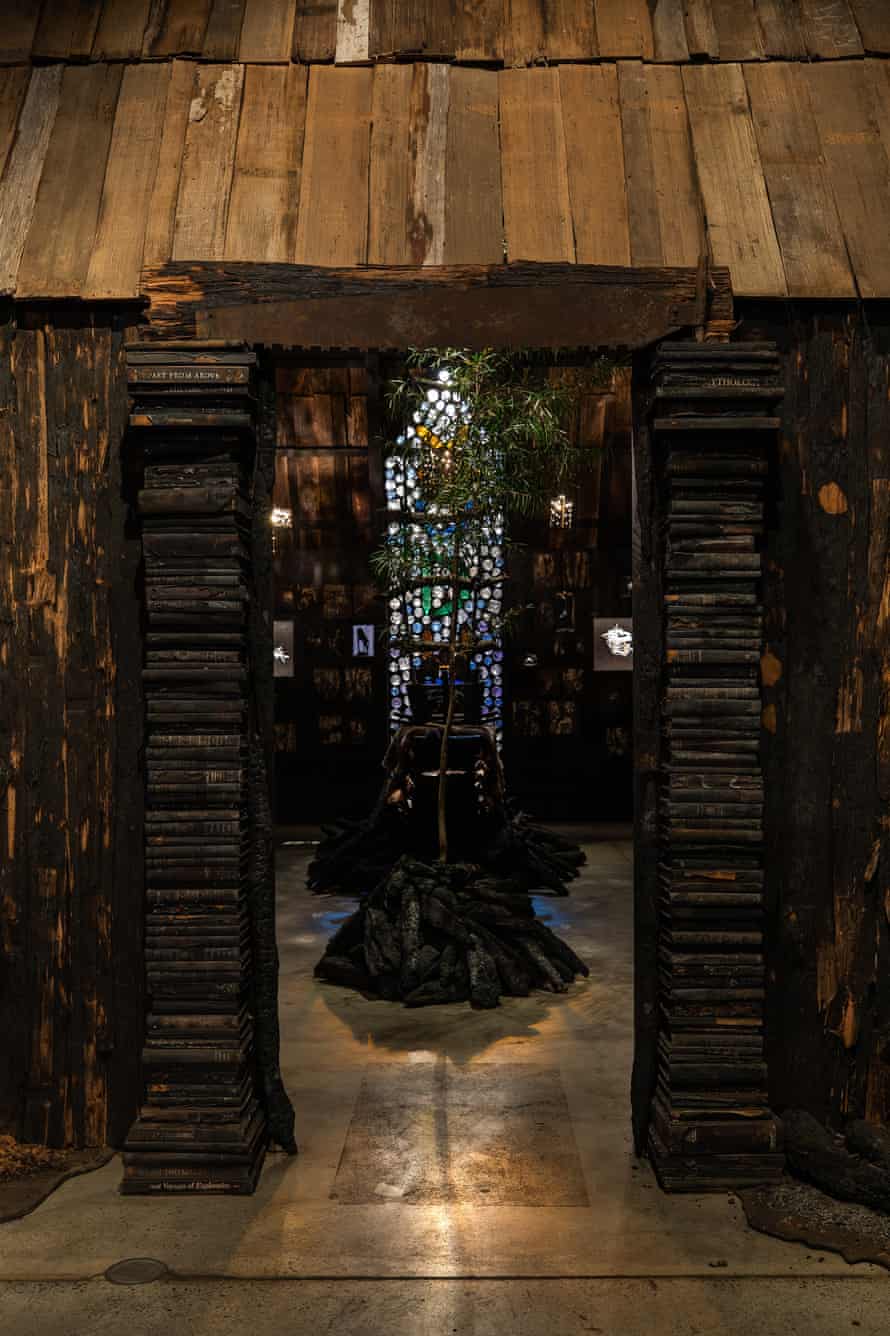 The shelter door is made of piles of burnt books—philosophy, history, encyclopedias, and great Western literary works—harvested from friends' homes and junkyards. The burning of these books, she says, was a comment about "the accumulation of 'wisdom' from a Western world perspective, which just goes up in smoke".
King reads it a bit differently: "From the perspective of the First Nations, our knowledge is transmitted verbally … so for me it's pretty powerful to walk into the cabin and see those books burned, all the while hearing knowledge being spoken." by First Nations people [in the sound installation]†
If the doors give the cabin a storybook quality, the wall at the back of colored plastic bottles is reminiscent of the stained glass windows of a chapel – with a burnt wooden box in the middle. Inside, the cabin walls are lined with more charred books: these open onto documentary photos of war, despots, settlers, and dictators (Adolf Hitler shows, alongside scenes from Ukraine and the Vietnam War).
On shelves between them are the ashen corpses of carved animals – another lament for the destruction of man – as well as 13 new tin sculptures by Hall entitled Split Infinitive, acquired by Mona: gnarled and beautifully detailed trees, violent ripped part. A "large male appendage" can be seen in all but one, which has a carefully sculpted vulva instead. ("It's like the 13th evil fairy at the christening," she laughs, referring to the rejected woman who bewitched Sleeping Beauty.)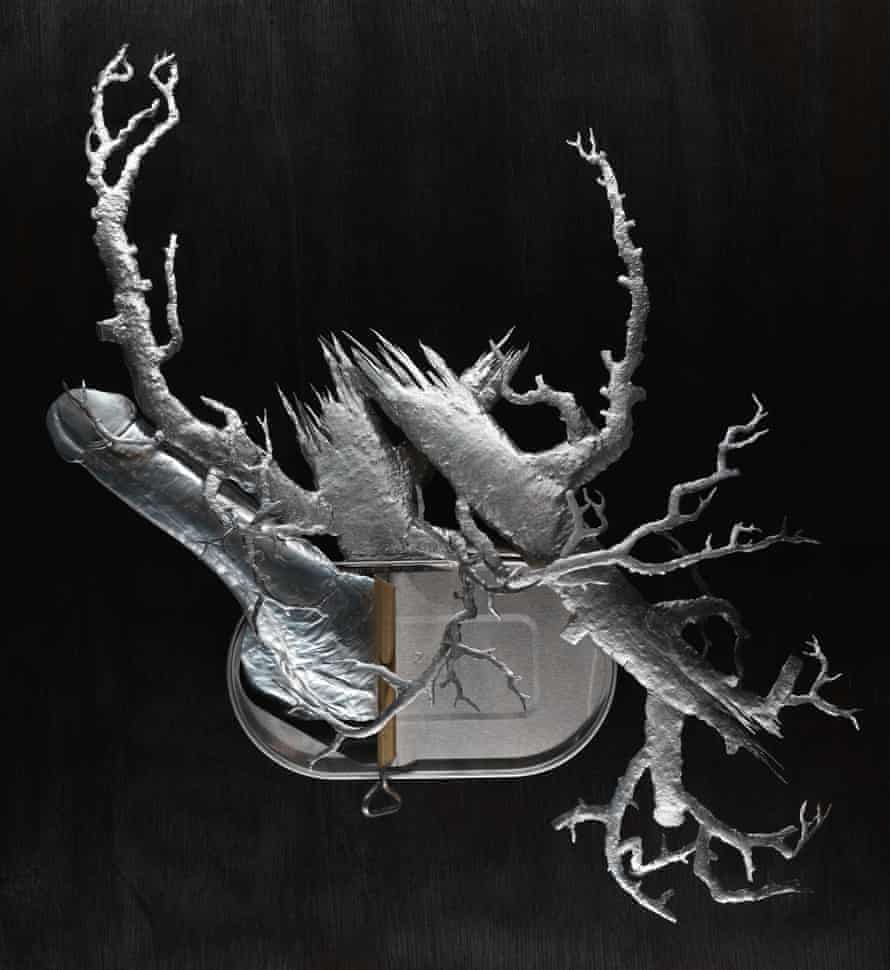 Hall has been making tin engravings for decades; they featured prominently in her exhibition at the 2015 Venice Biennale, which was re-staged in Canberra in 2016. But in the past these sculptures could be seen with living things – trees, flowers, wildlife – and now it's all destruction.
"The broken trees for me, split into pieces — it's a metaphor for the lust for power at any cost, which seems to be driving the planet to extinction," she says.
As for the penises, King finishes her thought: "A lot of it is driven by male ego and greed."
The show may sound almost brutally bleak, but here's hope, too. Above the coffin is a wooden cradle and above it a rickety rope ladder that reaches into the sky. It represents a perilous kind of rebirth and redemption – as long as you're willing to climb for it.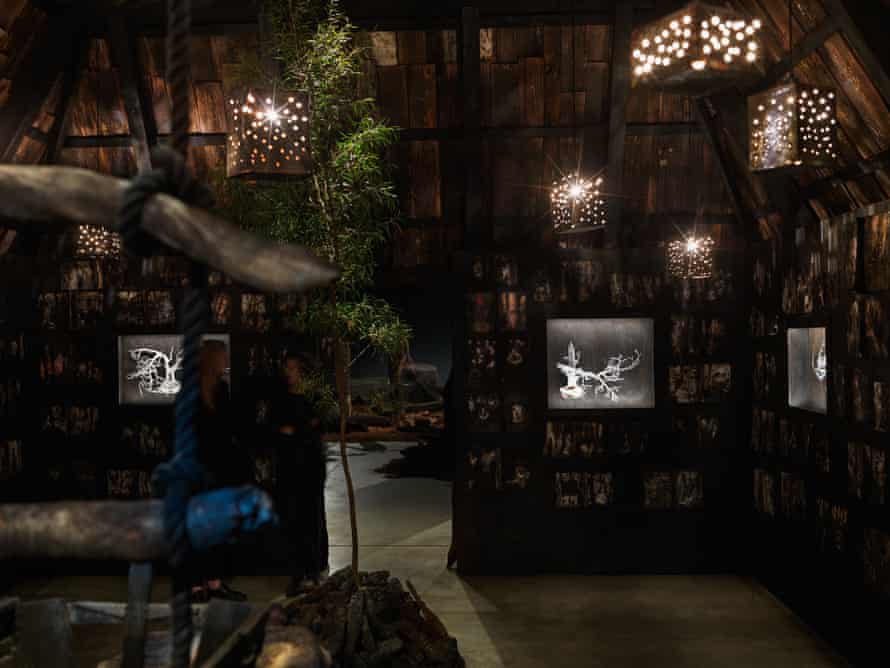 And then there's the peppermint tree, which grows tall and improbable in this room underground. "The tree is the only sign of life in the entire installation," King says. "It's about the strength of the country and the hope for a better future."
The coffin is decorated like a flag and medal with a timita (possible) hide cloak sewn by Aunt Michelle McNamara, and folding sticks made by King. "We've lost a lot, but there's still a lot here," King says. "And we are still there."