The vast majority of Australians have nothing but respect and admiration for Her Majesty The Queen and wish her good health and an even longer life on the occasion of her platinum anniversary, writes former Australian Prime Minister Tony Abbott in an op-ed for London's Daily Telegram†
On her 21st birthday, she declared that "all my life, whether long or short, will be devoted to your service" and to that of the "great Imperial family to which we all belong". True to her word, her ensuing three-quarters of a century have been the epitome of duty and service – not just to the UK, but to all her realms and to the wider Commonwealth.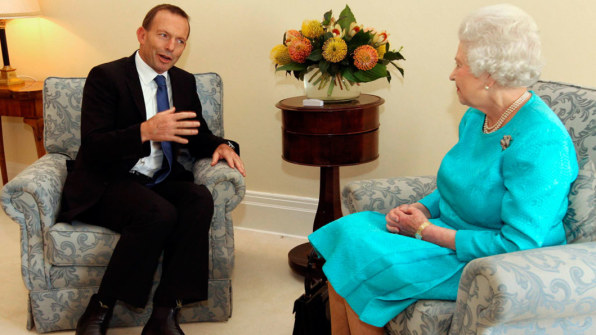 Between 1954 and 2011, the Queen visited Australia 16 times. On her maiden voyage, she made 33 flights, visited seven capitals and 70 rural towns, and more than three quarters of the population came to cheer. From the beginning she has been the "people's queen"; beautifully complemented by Prince Philip, the classical officer and gentleman, whose awards by the Duke of Edinburgh, for nearly six decades, have fostered a spirit of 'servant leadership' in nearly a million Australians.
In the wake of that maiden voyage, then-Prime Minister Robert Menzies noted that this "common devotion to the throne is part of the cement of the whole social fabric". Since that time, the royal family has had its share of PR disasters. In the 1990s, there was even an ongoing campaign to make Australia a republic. This ultimately failed with a 55-45 percent vote nationwide, despite nearly every newspaper calling for "an Australian head of state".
Despite the atavistic ambivalence of some Australians of Irish descent and the constant drumbeat in the media that the monarchy is "outdated", "foreign", "elitist" and even "racist", it still fascinates us. It's partly the celebrity factor, partly respect for the Queen herself, partly appreciation that the Crown puts part of our system of government above partisan politics; and in part it is the mystique of having a claim to the oldest surviving institution in western civilization (aside from the papacy).
In 2014 Prince William and Kate visited a hospice for dying children in my then electorate. At least 200 people must have held an impromptu communal barbecue outside on the street. Then, along the streets, five deep into Manly's eastern hillside to the beach where the royal couple would meet young lifesavers, was a crowd that police estimated at over 20,000 people. I never imagined seeing such a demonstration of the magic of the monarchy with my own eyes – and have rarely been so moved.
The crown is more than the person who wears it. It is more than all the countries that share it. It is an institution that spans continents and centuries. It is a link to our best ideals. And it perfectly reflects Burke's idea of ​​society as a pact between those who are alive, those who are dead, and those who are yet to be born. Not only has the Queen's reign been such an example of effort and achievement that no country in the world would not be proud of such a head of state, it would be an act of institutional vandalism, of cultural amnesia on an epic scale.
I doubt a new government will be quite a constitutional turning point that some people fear (or hope). Prince Charles has been an activist heir. Yet his practical environmental awareness of his own estates and his clear pursuit of what is true, beautiful and good is utterly admirable. As king he will be very much his mother's son; and like his mother, his apparent durability will be a comfort in a changing world.
The anniversary celebrations may be more lavish in Britain than here in Australia, but millions of us will salute this remarkable woman who has been such a presence throughout our lives. Her example will continue to inspire us.