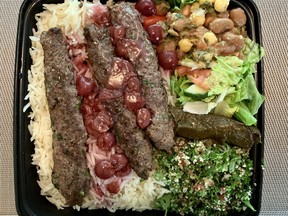 Reviews and recommendations are unbiased and products are selected independently. Postmedia may earn an affiliate commission for purchases made through links on this page.
Article content
Syrian cuisine
48 Nelson St. (within the Portuguese Bakery), 819-328-7961, syriankitchen.ca
Open: Daily from 10 a.m. to 8 p.m. for pickup
Prices: entrees $15 to $22
Article content
The scant amount of Syrian food I've had in recent years has only left me wanting more.
Whenever I visit farmers' markets in Ottawa and the Falafel Guys sell their wares, I find it hard to resist buying an ultraverse falafel wrap, made with locally baked saj bread, which is immeasurably better than store-bought pita breads. time.
The Syrian-made shawarma at Sham Shawarma in the Hull sector of Gatineau and Laheeb Shawarma in Chinatown also have some fine saj. Plus, they tweak what goes into their Syrian shawarmas compared to the myriad Lebanese examples that have been proliferating in Ottawa for decades.
My latest exploration of Syrian food happened this past weekend, when I ordered an elaborate meal from the Syrian Kitchen in Lowertown. I was aware of the six-year-old company because I had been buying the packaged dips from several supermarkets in Ottawa for a long time. But I only heard of the more substantial items more recently.
Article content
Damascus-born Rehab Adas owns the Syrian Kitchen, as well as the Portuguese Bakery on Nelson Street, which shares its space with the Syrian Kitchen. While Adas arrived in Ottawa from Syria in 1990, she has employed recently arrived Syrians who have left a homeland that has been rocked by civil wars for the past decade.
I chose to take home a large order from Syrian Kitchen rather than ordering the dishes through a delivery service or eating on the small street side terrace.
The dips and rice-filled grape leaves that I already knew very well did not disappoint with their freshness and consistency. Falafels were like little chickpea donuts. Lentil soup was thick and tasty, but also too salty – nothing a little thinning couldn't fix.
Article content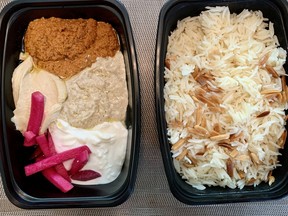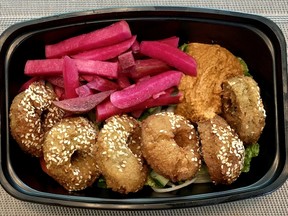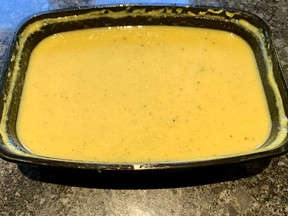 Two heavily sauced items that I think are rare in Ottawa were my favorites.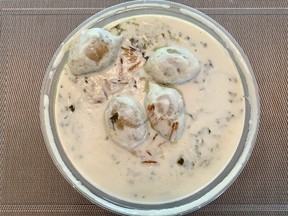 In kebbeh labanya ($22), the well-made fried balls of seasoned ground beef and grains were taken to another level thanks to the dish's savory warm yogurt sauce, which was dotted with herbs and toasted slivered almonds.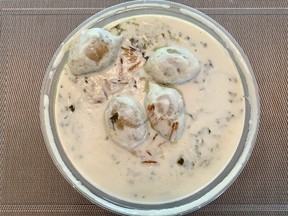 Hummus fatteh ($15) was an enjoyable chickpea-forward version of a dish I've had elsewhere in Ottawa for breakfast or brunch. Syrian Kitchen's greasy layer layered chickpeas over crispy pita breads and topped everything with warm, nutty tahini and more of those delicious almonds.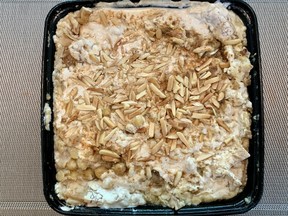 While I've had countless shish taouks in my time, Syrian Kitchen's Moist Chicken Skewers ($22) stood out for their tartness and hint of sweetness.
Article content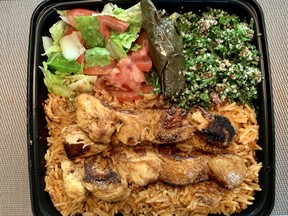 Also new to me was the dish called kabab karaz ($22), in which ground beef skewers were marinated in a cherry and berry sauce for a sour, tangy finish. We found the skewers a bit too salty.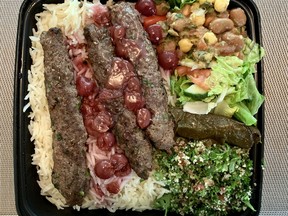 Syrian Kitchen's maklouba, a blend of seasoned ground beef, eggplant, and tomato-y rice ($22), was homey and comforting.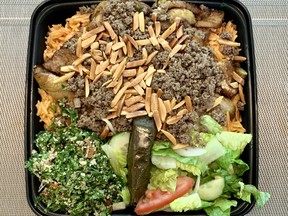 The prices for dishes were more than reasonable, considering how full the containers were, with rice, tabbouleh and other side dishes. Although I always order too much, I didn't expect to feed five people one night and four the next, and still have some left over for several lunches.
While I ordered through Syrian Kitchen's online portal, I see on the separate website that few dishes are listed. I look forward to trying them later as the successes of the Syrian Kitchen have whetted my appetite.