Both men had been shot in the head and would later die in hospital. Another patron, with whom El Houli had spoken moments earlier, was wounded in the arm and writhing in pain.
"I feel like they saved my life. I feel guilty and incredibly sad. I try to be strong, but I find it very hard to talk about. I keep thinking 'why were these guys shot and am I still alive?'"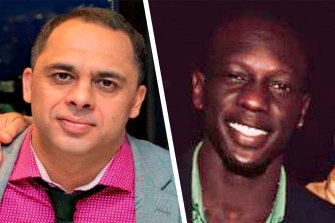 "I still remember the moans and moans and screams…I still can't stop crying when I talk to my psychologist about it," he said.
John Karantzis, partner of Carbone Lawyers, said El Houli continued to suffer from serious health problems.
Loading
"We are surprised that WorkCover has refused to accept our client's claim, as he was clearly working at the door that night and witnessing the shooting," Karantzis said.
Elliott, 21, was found guilty by a Supreme Court jury last week of murdering Osmani and Arow and injuring another guard and two patrons outside the club.
Elliott, the son of murdered crime boss Nabil Maghnie, was found guilty of two counts of murder, two counts of attempted murder and one of intentionally causing serious harm.
His accomplice Allan Fares, 24, was behind the wheel of the stolen Porsche. He was also found guilty of the same charges after prosecutors successfully allege he was driving at a slow pace just feet away from people when Elliott fired the shots.
A third man, Moussa Hamka, 28, was found guilty of one charge of assisting one perpetrator in an attempt to conceal the others' involvement in the shooting.
The trio were remanded in custody and will appear in court in August.
Cut through the noise of the federal election campaign with news, views and expert analysis from Jacqueline Maley. Sign up here for our Australia Votes 2022 newsletter.