Sharon Edmonds thanks Toronto Public Health dentist Dr. Rishi Saxena not only for her good oral health, but also for saving her life.
Edmonds, 69, entered TPH's Dental and Oral Health Services Clinic in the Rexdale Community Hub 18 months ago after googling where to get free dental services. She learned that she qualified for the Ontario Seniors Dental Care Program.
"Before he even did my assessment, he took my blood pressure, which I found very unusual," Edmonds recalled. 'I'm 69. No dentist has ever measured my blood pressure. It was sky high – 210/85. He told me it was urgent. I had to go to my doctor or to a hospital. He saved my life!"
Later, Edmonds emailed Saxena to thank him and to tell him that her doctor confirmed his diagnosis and prescribed medication.
Since then, Edmonds has had two dental cleanings. She has booked five appointments for a partial denture where Saxena had her loose front tooth pulled.
She said she is no longer afraid of the dentist.
"The first time I went I felt so comfortable. I wanted to come back," she said. "It does not interest me anymore. … And I have a lot more confidence in my smile. I'm just really happy to have dental coverage."
Recently, TPH opened its newest dental clinic, which offers preventive and restorative care, as well as specialist oral and denture surgery, at 222 Dixon Rd of the Rexdale Community Health Center. office.
TPH also has a dental clinic at RCHC's Taber Road location.
Residents served by the Dixon clinic include members of the Somali, South Asian and Caribbean communities.
Safia Ahmed, executive director of RCHC, praised the partnership with TPH and called it a "great day" for local residents.
"Communities like ours, people have low incomes, families struggle to meet their basic needs, low-income seniors are challenged to pay their rent and put food on the table," Ahmed said in an interview. "There is no money to pay for dental services."
The bonus – dental customers benefit from coordinated care and access to RCHC health and social programs and services, Ahmed said.
"Dental clients can also visit our primary care physicians, nurse specialists, access chronic disease services, have their food insecurity addressed, maybe even come to one of our daytime programs," she said.
The Ontario government has invested $451,000 to help build the new clinic and connect it to the Etobicoke Health Center in the North to provide services to eligible clients, from children to seniors. The funding covers all operational and related clinic costs.
"With the support of our government, Toronto Public Health's new dental and oral health clinic will increase access to quality dental care for patients and families in Etobicoke and surrounding communities," said Sylvia Jones, Ontario Deputy Prime Minister and Secretary of Health.
Clients receive dental services from TPH employees, including dentists, denturists, dental assistants and administrative staff.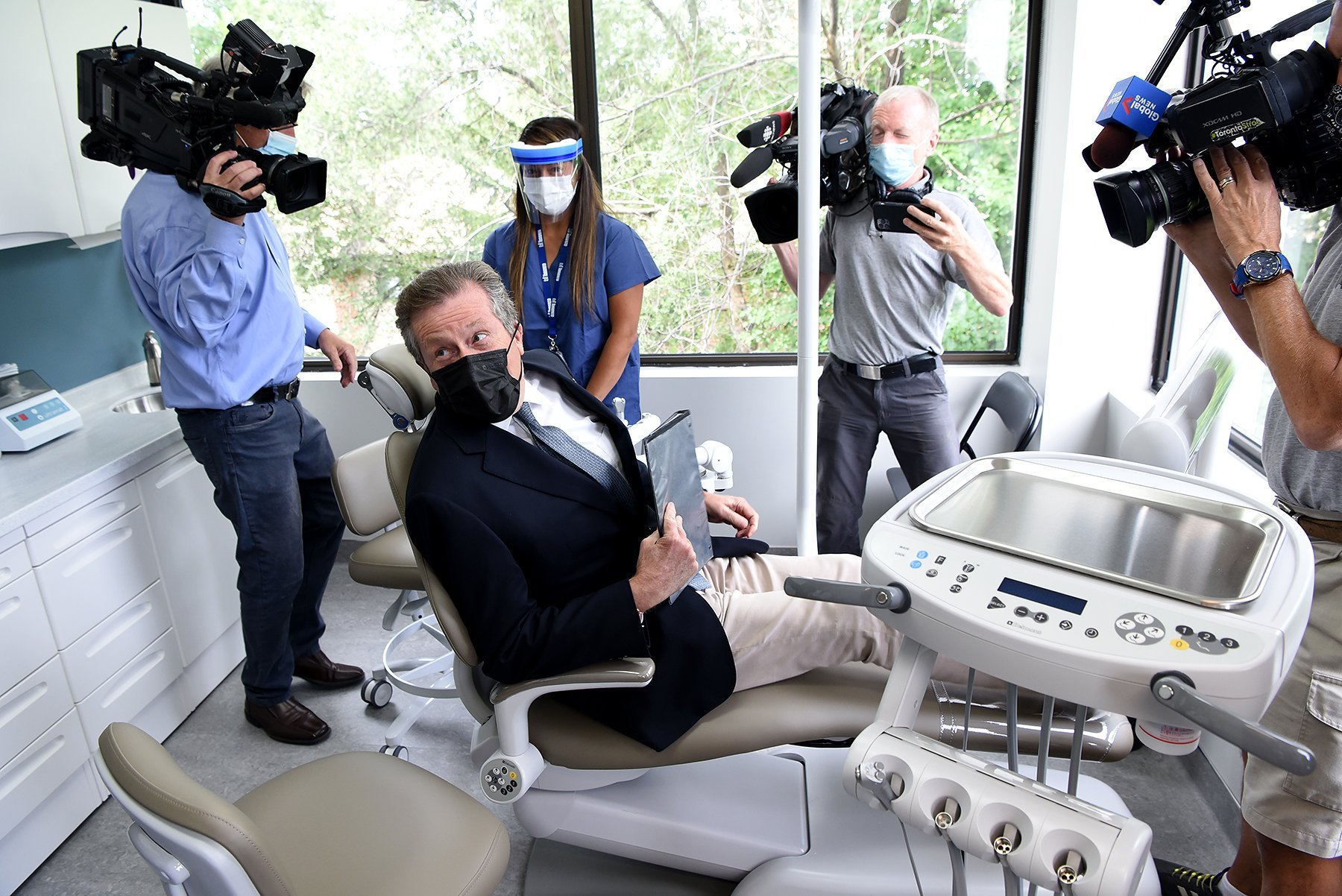 Mayor John Tory tests one of the seats at Toronto Public Health's newest dental and oral health clinic at 222 Dixon Rd of the Rexdale Community Health Center. Place. | Dan Pearce/Metroland
Mayor John Tory toured TPH's new dental clinic on July 25 with Jones, and Dr. Eileen de Villa, Toronto Medical Officer.
"This is another step we are taking to create a more livable and healthy city for our residents," Tory said in a statement. "These dental clinics in our city have proven to provide much-needed care and services to those who need access to affordable dental services. Now people from the Dixon Road and Rexdale communities will have better access to dental care."
TPH reported that Dixon's dental clinic will help an estimated 1,700 low-income people enrolled in the Ontario Seniors Dental Care Program, Healthy Smiles Ontario Program, Ontario Works or the Ontario Disability Support Program each year.
De Villa called the collaboration in the clinic 'a winning combination' for local residents.
"The new dental clinic will provide much-needed services to this community and will be integrated with the health center to provide a higher level of health-related care and social services to the residents of the area," de Villa said in a statement.
STORY BEHIND THE STORY: Reporter Tamara Shephard wanted to know the impact of Toronto Public Health's newest dental clinic in partnership with the Rexdale Community Health Center on North Etobicoke customers.
PART: