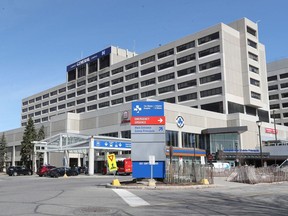 Article content
Amid staff shortages, Ottawa Hospital hopes to hire dozens of registered practical nurses to fill the vacant registered nurse positions, saying the current staffing situation is "unsustainable."
Article content
It is a move that concerns the Ontario Nurses Association, the union that represents registered nurses in the hospital.
Registered nurses, who are more highly trained, generally care for more complex, less predictable patients than registered practice nurses.
That's why the vast majority of nursing positions at Ottawa Hospital are registered nurses, said Rachel Muir, president of the Ontario Nurses' Association negotiating unit.
"I have no problem with RPNs. They are a valuable part of our team and have valuable skills. But we are a tertiary acute care center with a trauma center and our patient population is inherently unstable with unpredictable outcomes. Those are not the kind of patients that RPNs should care for," Muir said.
Article content
The Ottawa Hospital, like hospitals across the province, has faced crippling staff shortages that have worsened during the pandemic. Shortages of health workers are a global phenomenon and finding solutions has been a focus of the ongoing provincial election campaign.
It said the addition of more RPNs and patient care tools will "provide much-needed relief" to overworked staff.
Ottawa Hospital already employs registered practice nurses, but they are a small proportion of the nursing staff. The hospital has about 4,300 RN positions and between about 200 to 300 RPN positions, according to Muir.
The hospital has informed the union that it wants to change its model of care — the way care is delivered — and hire 130 RPNs, Muir said.
Article content
She said the ONA views the changes in the care model as a layoff, even though no registered nurses are losing jobs.
"Certified nurses are given to licensed practice nurses. Because they can't find RNs, they are looking for other health care providers to fill these positions."
Muir said the hospital has told the union they need to change the model of care and replace RNs with RPNs "to facilitate staffing and stabilization and the granting of vacation."
Staffing problems and the pandemic have prevented some nurses from taking a vacation.
In a statement, spokesperson Rebecca Abelson said The Ottawa Hospital is further expanding its recruiting efforts to address staffing challenges.
"The latest wave of the pandemic has shown us that the current staffing situation is unsustainable, so TOH will continue to adapt processes to support staff and ensure patients receive the best care. This includes adding more registered practical nursing positions and patient care assistant positions to certain areas to provide much-needed assistance."