The presence of Jim Durrell, the chairman of Hydro Ottawa Holding Inc., and Bryce Conrad, the company's president and chief executive officer, was the most anticipated part of the Ottawa City Council meeting on Wednesday.
In his assessment of fiscal 2021, Durrell said Hydro Ottawa was best in class for the fifth year in a row in terms of number of outages and duration. However, that will likely ease with next year's report due to the storm that swept through Ottawa on May 21, 2022. Durrell stated that the prime minister's office was in daily contact with Conrad during the power outages and said the county was covering the associated costs of the storm.
Durrell discussed plans for a new five-year initiative that will make Ottawa a net-zero electricity city by 2030, aiming to become the first municipality in Canada to meet this goal.
Durrell then shifted his attention from the report and focused on the storm. According to the presentation, "no corner of our service (Hydro Ottawa) has been left untouched." Durrell noted that the 1998 ice storm and 2018 tornado pale in comparison to what hit the city last month.
Either way, it was the largest service disruption in the city's history, affecting 50 percent of customers. When the power first went out, Hydro Ottawa executives stated their strategy was to reenergize critical infrastructure in the city: hospitals, water treatment plants and the airport.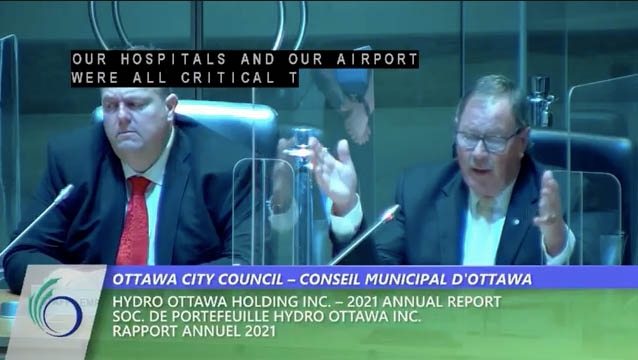 Durrell stated that he was without power for six days and understood the frustration of the citizens but that the restoration of service took so long because it takes an average of almost six hours to repair or install a hydroelectric plant, and the city lost 410 theirs; "almost a year of work," Durrell said. The cumulative damage to infrastructure was between $25 million and $30 million.
Durrell stated that the city still uses wooden posts because they are "cost-effective" and can last up to 50 years. Durrell said "wooden poles are not the problem" and "a storm of that magnitude will always be a problem." Conrad then praised the Hydro One workers, saying, "In fact, we rebuilt half the network in the better part of eight days."
In response to the question of why lines are not buried, Durrell stated that lines are buried when major infrastructure works are undertaken, such as the 2018-2020 revitalization of Elgin Street. Durrell explained that the process is time-consuming and costly: It would take 90 years to bury the network and cost about $10 billion. Ottawa Hydro consumers would have to pay for the change, which would mean that monthly hydro bills would go up.
Councilor Rawlson King asked executives what measures Hydro Ottawa was taking to address grid resilience. Conrad replied that the company is investing $130 million a year in storm paving and increasing "telecommunications capacity" so that failures are resolved quickly through a central office rather than sending teams to fix them. Conrad stated that Hydro Ottawa can generally handle most outages remotely unless there is infrastructure damage, such as a tree falling on lines.
Councilor Catherine Kitts asked whether, as part of Hydro Ottawa's assessment, consideration would be given to prioritizing residents with separate septic and well systems that require electricity to operate. Kitts' neighborhood includes villages such as Carlsbad Springs, where many residents rely on this form of infrastructure in their household; Carlsbad Springs experienced a longer-than-average power loss after the storm. While there was no solid plan, Conrad said he sympathizes with these residents and will look into a contingency plan going forward.
Councilor Shawn Menard expressed concern about emergency warning systems and having a possible email from Hydro Ottawa, similar to the parking ban emails sent in the event of snow storms. Conrad replied that residents would have received emergency messages via text message, but if there is an option to integrate with city communications or email, "they're happy to do it."
Deputy Mayor Laura Dudas criticized the communication aspect, saying it was unwise to rely on electronic communications because residents were unable to charge their devices. This left the communication aspect to the city staff, who "didn't have the information". Dudas further said that councilors and city officials should not be the information providers on behalf of Hydro Ottawa.
The City Council will meet again on July 6.
Photo header: @KatherineDines