jingle design gives the flow bar & lab a futuristic flair
Jingle Design's 'Flow Bar & Lab', located in Shenyang, China, is a social eatery radiate futuristic accents against a calm, dark and minimalistic background. Upon entering the bar, guests are welcomed by an eye-catching art installation suspended from the ceiling. In the form of rows of water droplets,'the artwork shows its beauty in vertical and horizontal order and is a symbol of contemporary art'† say the architects. Throughout the day, a warm play of light and shadow gives the metal installation ever-changing qualities that keep visitors curious and captivated.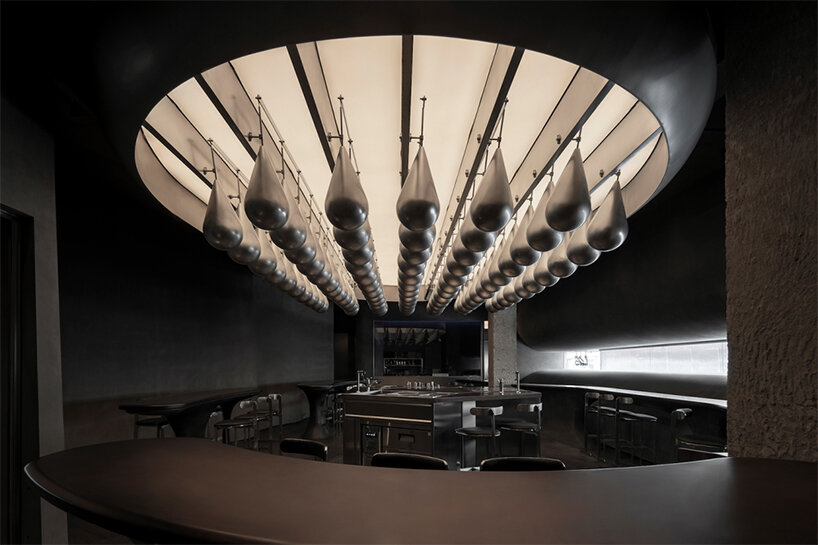 take the visual experience to the next level with atypical layouts
Unlike the open layouts of typical drink counters, the bar here takes the shape of a hexagon that Jingle Design built with advanced craft and distinctive materials. After the hanging artwork, the diamond-like counter becomes the second most captivating feature of 'Flow Bar & Lab', bringing power to the space with its central position. Mixing wood and metal with a solid geometric shape gives a sense of calm and order, allowing guests to enjoy a drink amid the atmospheric design.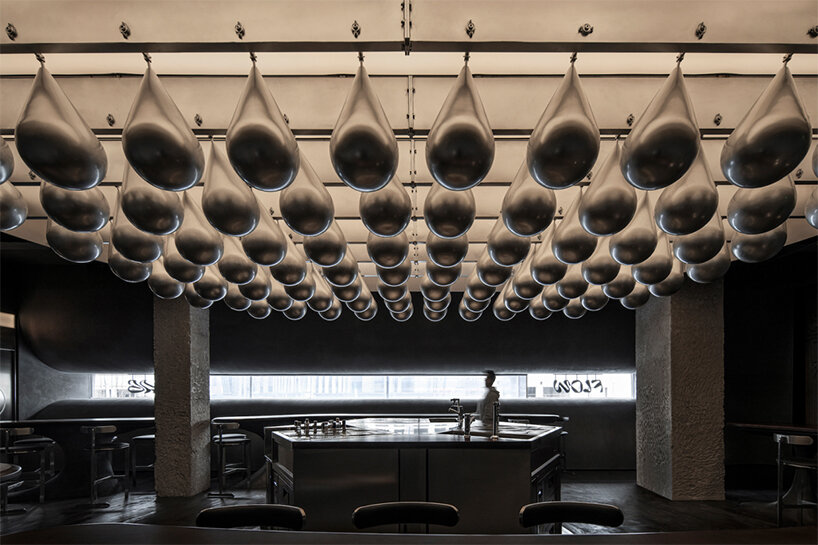 Meanwhile, made of wooden materials, all the tables and chairs are arranged at the edge of the space, with water ripples on the floor to softly contrast with the artwork on the ceiling, balancing 'sharp' elements with softer ones.
Another notable feature of this project is the curved window pane stretched horizontally across one side of the dining area. Combining the horizontal layout with the curved walls and ceilings that are softened by natural light, guests feel as if they are floating between indoors and outdoors, expanding their visual experience while maintaining a sense of calm and serenity.