Max Verstappen opened a 21-point lead over team-mate Sergio Pérez in the Formula 1 World Championship when Red Bull finished 1-2 in the Azerbaijan Grand Prix on a disastrous day for Ferrari.
Verstappen had a rocky start defending a title won in such a dramatic way last year, with early season reliability issues that have now become a thorn in Ferrari's side. Charles Leclerc, who started from pole position in Baku and has done so in six of the eight races of the season so far, led the race to an engine failure after 19 of the race's 51 laps.
"It really hurts," said the Ferrari man, who has retired in two of the last three GPs. "We really don't need to let this happen again. We didn't have any major problems at the start of the season and we didn't change any major things. It is difficult to understand and very disappointing."
Leclerc's team-mate Carlos Sainz also retired early with hydraulic problems, the Italian team's first double retirement since Monza handed 2020 Red Bull the race on a board.
Pérez, a Baku specialist and winner in Monaco two weeks ago, led the early laps after beating Leclerc in the first corner, but after beating Verstappen for the second consecutive race, he suffered worse tire degradation and had to take the best giving to the defending champion after 14 rounds, the Dutchman won comfortably. His 25th win put him on a par with former legends of the sport Jim Clark and Niki Lauda.
Red Bull team principal Christian Horner said: "It was bad luck for Ferrari today. They took a cheap early pit stop under a VSC [virtual safety car] for Leclerc, which gave him a lead but would have meant a very long stint on those tyres. We had a good pace and would have been in better shape later on. It would have been fascinating to see how it turned out."
At one point, the Red Bull drivers were given a "no fight" instruction on a track known for the danger of solid walls and lack of run-out areas. However, Horner clarified: "Sergio was magical in yesterday's qualifying, but maybe we gave qualifying a little more priority on his side of the garage. He got a bit more grainy in the rear tire than Max did today. All we asked of them was to give each other room, and they did. It was a very mature ride from Max and last year's redemption." In Baku in 2021, Verstappen was robbed by a tire blowout six laps before the end while he was in the lead.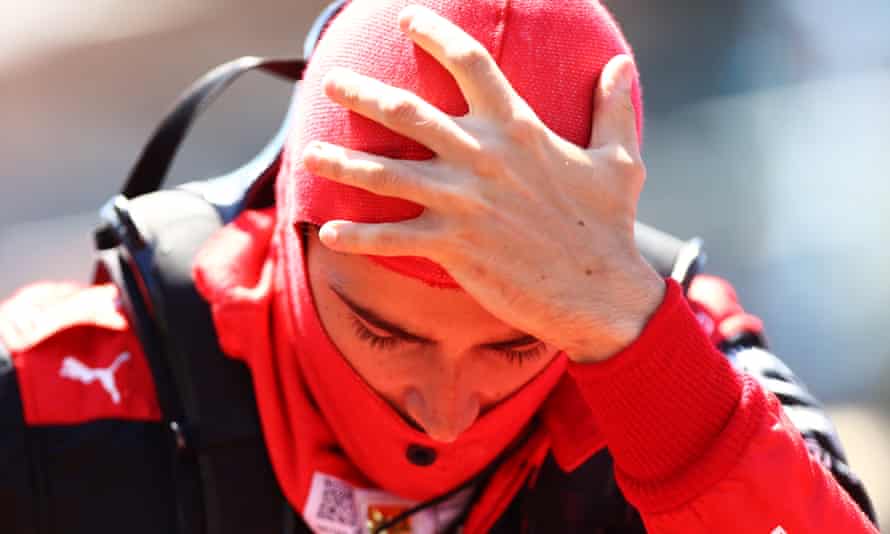 Behind the dominant Red Bulls, George Russell scored his third podium finish of the year and maintained his record as the only driver to score in every race. But driving a Mercedes that still suffers from "porpoises" or bouncing, as a result of this year's new aerodynamic regulations, was far from a comfortable afternoon. "It was pretty brutal there," Russell confirmed. "I will sleep well tonight after a race on a track that is normally not so physical."
Lewis Hamilton knew exactly how he felt, struggling to get out of his car after finishing fourth – behind teammate Russell for the seventh time in eight races. "I bit my teeth in pain," said the seven-time world champion. "I can't express it. Adrenaline got me through it. You just prayed it would end."
It was again an unimpressive performance from the reigning Constructors' Champion, but Hamilton was still optimistic enough to offer some hope. "I think we're losing 1 second per lap with this bounce and once we fix it, we're in the race right away," he said.
However, that has been a familiar refrain since the championship's opening round, with Toto Wolff apologizing for what Hamilton had been through. "We all know it's a bit of a shithole to drive at the moment, and sorry about the rear, but we'll work it out," said the Mercedes team boss.
Almost for a man, the drivers wondered about the bouncing phenomenon that is not exclusive to Mercedes and which, they fear, could cause long-term physical damage.
Pierre Gasly scored his best finish of the season with a fifth-place finish for Italy's AlphaTauri team, ahead of a combative drive from Aston Martin's four-time former world champion Sebastian Vettel, who could have possibly finished fourth, but for a quick 12-lap escape road trip inside.
Fernando Alonso, who now boasts the longest ever F1 career in terms of duration at 7,771 days, finished seventh ahead of Alpine, ahead of Daniel Ricciardo and Briton Lando Norris in the McLarens, and French team-mate Esteban Ocon.