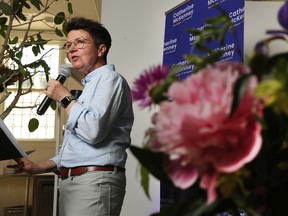 Article content
There's something about the Ottawa occupation that I haven't shared until now. Last February, when hundreds of trucks drove into our city and took root on our residential streets, intimidating, intimidating and assaulting members of the community, I too was scared and stayed home.
Article content
But when that first weekend ended and the convoy didn't leave as promised, I knew it was my responsibility to make sure the people who live in our town had a voice, and someone to stand up for them.
Every day I waded into the convoy and urged the truck drivers to leave. Some did. I started community walks so that people, especially the elderly, could get food and medicine safely. After weeks of inactivity, incessant honking, vandalism and violence, I handed the occupier flyers saying they would be named in a class action lawsuit if they didn't leave. Many did. Then I attended a meeting of the Ottawa City Council while broadcasting live from the epicenter so that the mayor and acting police chief — who had the power to end the occupation — could see how truly terrible it was for residents.
Article content
As a city councilor, for the past eight years, I've negotiated and navigated this city's most challenging issues with determination and careful consideration, and when it comes to the people I represent, I'll always have their backs.
That's who I am and why I'm running for mayor.
Chiarelli: Why I avoided being Ottawa's next mayor

Sutcliffe: I'm running for mayor to make Ottawa a safe, affordable and reliable city for everyone
I believe we need a city that listens to our residents and works to improve life for everyone. I believe we can be a great city – the healthiest, greenest and most connected city in Canada.
I know we can create strong, vibrant neighborhoods. With housing for everyone, public transportation that really works for people in all parts of the city, thriving green spaces, thriving small businesses and art, entertainment and culture on every high street in every neighborhood.
Article content
I'm running for mayor because we can be – we need to be – a city where serious climate action is at the heart of every discussion we have. With each passing year, extreme weather becomes more severe, more frequent, more damaging and more expensive due to climate change. We need a deep commitment to climate action, including a plan to make our city more resilient — and responsible — to the impacts of climate change, especially when cities consume 78 percent of the world's energy and produce 60 percent of greenhouse gas emissions. I am the leader who can meet this challenge.
I have deep professional roots in Ottawa, built over decades in both Kanata and Centretown. I understand how municipal government works – including transportation, planning, community and social services, arts and culture, recreation, public health, emergency services, waste management and water services.
Article content
I also understand how you get things done at Ottawa City Council. In my two terms as councilor for Somerset Ward, I've tackled tough problems and pushed for solutions that work for residents in every part of this town. I have twice called for a public inquiry into the LRT and ensured the transparency and accountability needed to ensure the city does not make the same mistakes again. I have argued for the conversion of our bus fleets to electric, which has now begun. As a result of my efforts, thousands of mixed-income, mixed-use, low-energy homes are being built. There are also stricter tree ordinances in the city.
In my many years of service to this city and the people who call it home, I have learned that I have a unique ability to work with people to solve problems. Right now our city needs change. I'm running for mayor because I know I can make it happen and build a city we can all be proud of.
Catherine McKenney is a councilor for Somerset Ward and a mayoral candidate.