A lake in southern New South Wales is currently full of water, but that's not because of the recent heavy rainfall.
Most important points:
When there's a lot of water, Jeremy Morton fills a lake on his parents' property
The lake is good for waterfowl, frogs and trees
Water can be pumped from the lake for agricultural use
This fiscal year, Moulamein grower Jeremy Morton has diverted 1,675 megalitres of his irrigation water into the ephemeral lake on his parents' estate, where the family grows rice and other crops.
About 1,000 megaliters of the precious resource, channeled from the Murray River irrigation system to Morton's land, has flowed into the waterway over the past two months.
"First and foremost, it's about water for production. But it certainly has an environmental benefit too," said Mr Morton.
Morton had 240 acres of rice in the ground on his Moulamein estate in the NSW Riverina and is halfway through the harvest.
Irrigators in the Murray Darling Basin get their set water allocation each year, but whether they get their full entitlement depends on how much water is in the system.
This year Mr Morton's family bought water from the open market early in the season, but when it rained heavily he had plenty left.
"I've already had 250 millimeters of rain this year so I haven't had to irrigate anything this year," said Mr Morton.
Once a popular spot for water skiing, Morton's Lake fills naturally about once every three years, but since the Millennium Drought, which lasted from 2001 to 2009, water has only come in three times.
Hideout for endangered frogs
Mr Morton expected waterfowl to flock to the lake, but other animals would also benefit, including some that are facing extinction in NSW.
"We have Southern Bell Frogs in an adjacent body of water, which is shallower and covered with tall spikes and scattered red gum. So it's an ideal habitat for the Southern Bell Frog and there could be quite a few Australasian bitterns [a type of bird] there too," he said.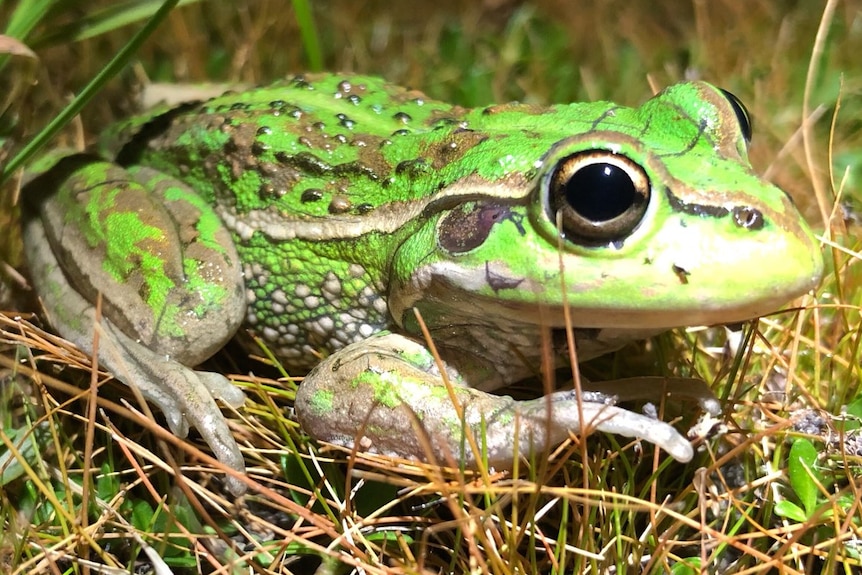 Mr Morton said it is now easy to get water from the lake to use for agricultural purposes.
"But we've had almost no chance in the last 20 years to use that permit because it's been so dry and there's been so little flooding."
Lakes can lose water through evaporation and seepage, but Mr Morton was not concerned.
"The vegetation will probably consume more in the coming months, but once it starts to warm up, evaporation in this part of the world is somewhere around five feet."
Future plans not sure
It is difficult to predict how many times Mr. Morton would be able to fill the lake with irrigation water, but he hoped to do so when water was plentiful or cheap to buy.
"There are plenty of times where we've been given zero allotment and we certainly can't afford to put water in it, but then that works because you end up with a natural drying phase, which probably isn't a bad thing either," he said.
Posted † updated