Article content
One person fell into a "trench" outside the Château Laurier early Tuesday morning and had to be rescued by the Ottawa Fire Services rescue team.
Article content
At about 5:40 a.m., firefighters went to the Rideau Street and Mackenzie Avenue area and signaled in a tweet that someone had "fallen into a trench about 10 ft." in the area.
An image posted to the fire department's social media account showed seven officers using pulleys, rope and a stretcher attached to a ladder truck to lift a man out of the "gully," a small space adjacent to the east side of Château Laurier between a decorative stone balustrade and the hotel wall.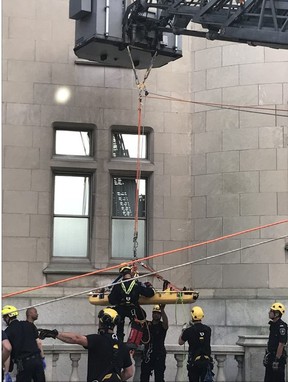 Ottawa ambulance crews were on the scene providing patient care but did not transport the victim to hospital, a spokesman said.
At 06:23 the victim was safely removed from the trench.
It was the second rescue operation by OFS in less than 24 hours. Early Monday afternoon, the rescue team was deployed to rescue two window cleaners who lost power to their stage swing and were trapped 10 stories high on a 14-story high-rise building on Grant Carman Drive between Basil MacDonald Way and Viewmount Drive.
By 2 p.m., the workers had been rescued unharmed, although they had been suspended for more than four hours.
And on Saturday, a team of paramedics and firefighters rescued a person injured after falling from the ramp at Alexandra Bridge. They used a water rescue team to remove him from the site.