PILSEN — Local artists pay tribute to Pilsen's first mural with a new piece, "Fight To Stay," depicting the struggles old neighbors face in fighting gentrification and staying connected to their roots.
The new artwork occupies two floors of a large building at 1910 S. Wolcott Ave., which houses a housing cooperative, a resistance in its own right. Artists Hector Duarte and Gabriel Villa said the mural is intended to unite the inhabitants of Pilsen with a common goal: to fight the forces driving local Mexican families.
Embedded in the artwork is a small recreation of "Peace", Pilsen's first permanent exterior mural, which was painted in 1968 by artist Mario Castillo on Halsted Street between Cullerton Avenue and 19th Street. Duarte said they wanted to incorporate some of Castillo's work into their own work to recognize the community's Mexican history.
Castillo is a pioneer of muralist, and his 1968 mural is considered the first mural painted during the national Chicano mural movement in the 1960s and 1970s, said Jeff Huebner, a Chicago art writer and mural historian. It was also the first mural in Pilsen, a neighborhood now widely known for its vibrant artwork. The mural was sandblasted in 1992 and no longer exists.
Castillo said he was honored Duarte and Villa paid tribute to "Peace" and the history of the neighborhood.
"There's been a lot of change in Pilsen, but I think it's still considered a place where visitors can appreciate Mexican and Latino culture," Castillo said.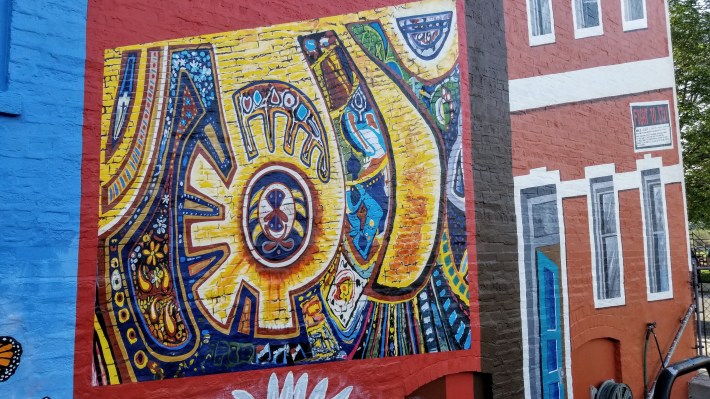 Castillo thinks the themes of his mural — empowering communities with Mexican roots and protesting the Vietnam War — parallel the "Fight to Stay" theme of combating displacement, he said.
Villa said the choice to fit Castillo's work into his and Duarte's mural came "organically."
"It's like a time capsule," Villa said. "It just made sense that we wanted to not only pay tribute to one of the most important murals, but also pay tribute to how community art has played an important role in the neighborhood."
After fleshing out Castillo's idea and working with him to figure out how his piece would best fit into theirs, Duarte spent the winter recreating the "Peace" segment in his studio. Castillo's mural was quite large, so the artists decided to paint only the focal point of the piece.
"Fight To Stay" also features dueling tornadoes, which represent the competitive forces of major developers and rising house prices against longtime residents and their culture, Duarte said.
Pilsen, a historic port of entry for Mexican immigrants, has seen an exodus of Latino families in recent years. A 2016 study by the University of Illinois at Chicago found that more than 10,300 Hispanic residents left Pilsen between 2000 and 2010.
Before becoming a Mexican enclave, Pilsen was occupied first by Czech immigrants in the late 1800s and then by other working-class European immigrants. In the 1960s, when Latinos were evicted from the neighborhood UIC currently occupies, Mexicans moved to Pilsen. In 1970, according to US Census Bureau statistics, Pilsen was the city's first Latino community.
It's not too late to reverse Pilsen's trend of displacement, Duarte said. In the mural, a massive tree could symbolize the tree of life, he said.
"We come from very old cultures that flourished… and we should be proud of this past, and we don't want to forget this past," Duarte said. "With this knowledge, we can make the future better."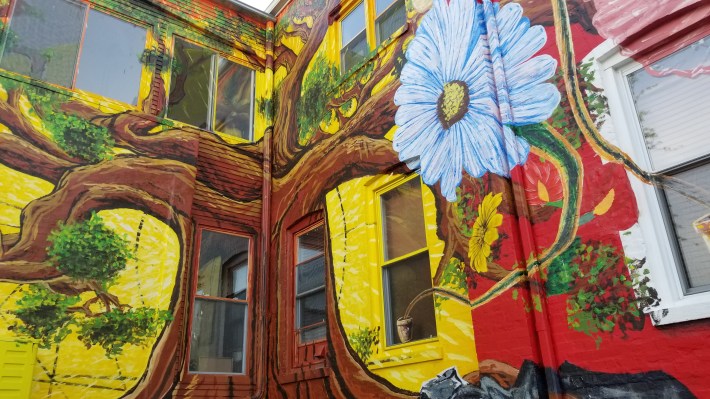 The location of the mural is also important.
The 1910 S. Wolcott Ave. building is owned by the Pilsen Housing Cooperative, founded by a group of neighborhood residents who opposed gentrification in the area and wanted to turn old tenants into homeowners. Duarte and Villa, along with others, are core members of the group.
"It reflects the community. In a way it reflects the struggle for the cooperative itself', says Duarte.
In February, the group bought its second building and is now looking for a third.
Neighbors are invited to celebrate "Fight To Stay" with music and food on Saturdays from 2-5pm as the artists put the finishing touches on the mural.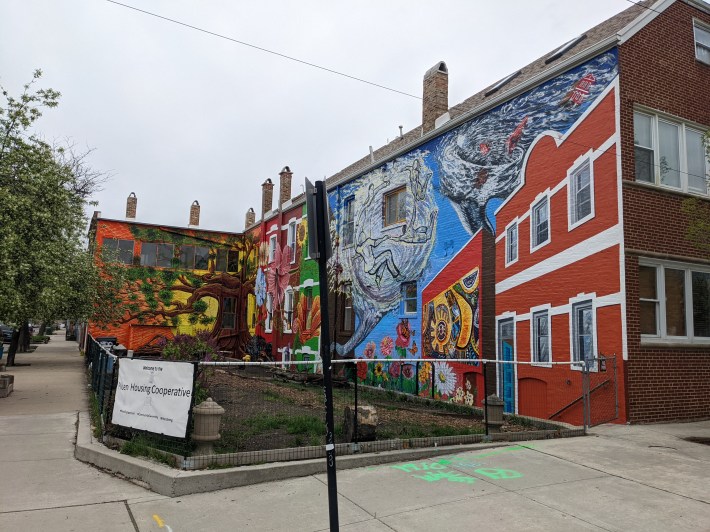 Listen to "It's All Good: A Block Club Chicago Podcast":