Deputy Treasurer Jim Chalmers was previously on Channel Nine where he was asked what Labor would do to tackle inflation.
As regular readers of this blog will know, the opposition has attacked Morrison's government for its cost of living pressure.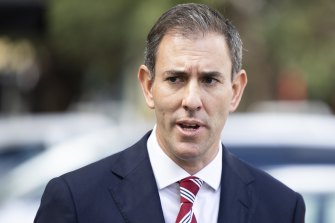 Here is the pertinent exchange between Chalmers and Nine's political editor Chris Uhlmann (edited for length and clarity).
Uhlmann: You are talking about real wages, so that wages grow faster than inflation. You promise wages will grow faster than Labor inflation?
Chalmers: We promise that wages will grow faster under Labor because we have a plan to grow real wages again. First, educating people for higher pay opportunities. Second, reform childcare so that people can earn more [and] work more. Support payroll issues in areas such as aged care and the care economy in general. But also invest in the right growth that ensures…
Loading
Uhlmann: But all that will not dampen inflation. For real wages to grow, wages must grow faster than inflation. Inflation is currently at 5.1 percent. So can you realistically promise that people's wages will rise?
Chalmers: We can promise that people's wage outcomes will be stronger under Labour, because the difference…
Uhlmann: Better than inflation?
Chalmers: The difference is… that the government has thrown its hands in the air. When something good happens in the economy, the government says it's because their plan is working. When families are being punished by falling real wages, the government says it has nothing to do with them and Scott Morrison says it's not my job. That is one of the main differences of this election.
Uhlmann: If people's wages have not risen faster than inflation in three years, would that be a failure under Labour?
Chalmers: The test is whether we can really make a difference in wage growth. We have a plan to do it. The government has washed its hands of the cost of living.