St Andrews' umbrella organization Christian Schools Australia launched a campaign this week calling on the winner of the May 21 federal election to reinstate the religious discrimination law, which was overturned in February with the help of five moderates. liberal MPs who came to the parliament.
Christian Schools Australia also wants the next government to deal with exceptions in the Sex Discrimination Act that would allow religious schools to discriminate on the basis of gender identity and sexual orientation, then pass amendments to the law.
This would allay concerns that faith-based schools could use the law to discriminate against LGBTQ students, said Mark Spencer, Christian Schools Australia's director of public policy.
But Spencer said faith-based schools should have the right to hire and fire staff based on their adherence to the school's religious values ​​and beliefs.
"We have same-sex attraction staff in our schools, but understand and accept that to live an authentic biblical life, to live out their faith, that has to be a temptation they shouldn't react to," said Spencer.
"And they choose to do that. They choose to seek their identity in Christ more than their same-sex attraction and that staff fits perfectly into our school context."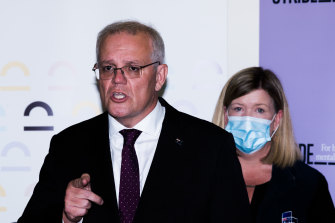 St Andrews Christian College is located in the safe Liberal seat of Aston in eastern Melbourne, owned by Alan Tudge, who resigned as education minister after allegations of having a woman with whom he was having an extramarital affair. Tudge has confirmed the affair, but denies the allegations of mental abuse and assault.
Tudge has the backing of Prime Minister Scott Morrison to return to the portfolio if the coalition wins the May 21 election.
Morrison pledged this month that he would revive the religious discrimination law if the coalition were returned to government.
Deb James, secretary of the Independent Education Union Victoria Tasmania, said almost all non-governmental schools are "open, diverse and welcoming, and don't need or want laws that would give them the right to be a trans student, a single parent." to discriminate." teacher, a gay lab tech or a classroom assistant undergoing IVF treatment".
"Staff and students in faith-based schools deserve better than second-class protections against discrimination and bigotry, and they certainly deserve better than seeing their rights exploited as a cynical political wedge in an election campaign," James said.
Equality Australia chief executive Anna Brown said faith-based organizations should no longer be able to fire or reject LGBTQ+ staff who could do the work asked of them.
Loading
†[It] Under federal law, it remains legal for religious schools and other faith-based organizations to discriminate against students, teachers, staff and people accessing services simply because of their sexual orientation or gender identity," Brown said.
"Whoever forms the government in these elections must act quickly to roll back these outdated exceptions in the Sex Discrimination Act to end discrimination against LGBTQ+ people by religious organizations."
St Andrews Christian College was approached for comment.
If you or someone you know needs support, you can contact the National Sexual Assault, Domestic and Family Violence Counseling Service at 1800RESPECT (1800 737 732).