Sydney's growth corridor to the west, near the new airport, is slated for a $110 million hotel and apartment development called The Grand Liverpool, backed by businessman and former politician Dr. John Hewson and the newly formed fund management and investment group of which he chairs, Joseph Banks Real Estate Fund.
The Grand Liverpool development, located at 402 Macquarie Street, Liverpool, is a joint venture with developer Ian Jordan and will comprise 72 apartments and 192 rooms in a four-star hotel. It is expected to open in 2024 and will be a beneficiary of Badgerys Creek Airport.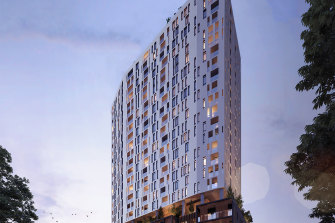 It comes at a time when the tourism industry is coming back to life with an influx of foreign and domestic travelers, which has led to a large number of new hotel openings. The demand for apartments in the west has also led to new projects.
Joseph Banks Property Fund will arrange financing and take an equity position in the development — a model it plans to use for a series of proposed mixed-use developments worth up to $200 million each along the East Coast.
Ross McDowall, the co-founder of Joseph Banks Property Group, said the group conducted due diligence on more than 20 projects before settling at The Grand Liverpool.
McDowall said it is the first project in what he says is "a unique model for getting development off the ground, without tackling the many traditional hurdles such as pre-sales".
I co-founded Joseph Banks because our model is different from the now crowded non-bank lending market.

Dominic Lambrinos, Joseph Banks Property Fund
Joining the Joseph Banks Property Fund team is veteran financier and chief executive Dominic Lambrinos, who recently retired from his Chifley Securities group.
"I co-founded Joseph Banks because our model is different from the now overcrowded non-bank lending market, where there are too many mortgage lenders and not enough viable projects that provide investors with adequate returns," Lambrinos said.