Tharnicaa Nadesalingam has celebrated her fifth birthday in her hometown of Biloela, four years after she was detained under the previous coalition government.
Balloons, cake and overwhelming joy set the tone as locals gathered in a nearby park to celebrate after "Tharni" and her family returned to Queensland's outback city over the weekend.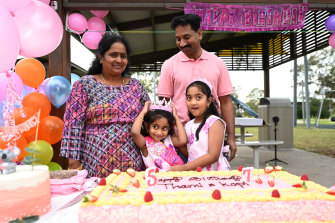 "Oh my God, everyone just has the biggest grin on their face," said social worker and Biloela local Angela Fredericks.
"When the family arrived and they walked downstairs, the girls were wearing little tiaras and the birthday girl was wearing a sash and they were wearing pretty pink dresses.
"I think for a lot of us when the time comes that this is what we've been fighting for, that they can walk to their local park here, you know, you have the stereotypical birthday in the park, what we're doing here. So that's why we've done this. This is what we're fighting for."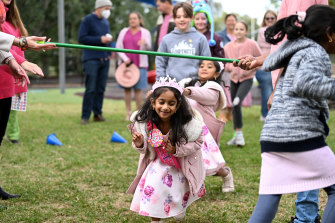 The festive scene was a welcome contrast to last year, when little Tharni was forced to spend her birthday at Perth Children's Hospital, where she was being treated for sepsis caused by untreated pneumonia.
She beamed alongside her parents Nades and Priya when she and her older sister Kopika, seven, were presented with a large cake in pink and yellow.
"We had a nice big slice of cake that was for both girls because we missed four years of birthdays, also for Kopika," said Ms. Fredericks.