Ukraine has won the Eurovision Song Contest in a huge show of support from the rest of the continent after the Russian invasion of the country.
With their folk-rap song Stefania, Kalush Orchestra stormed the rankings, beating strong competition from the UK and Italy.
The group was battling Russian aggressors in the streets just weeks before taking the stage in Turin – rather than rehearsing for the biggest gig of their lives.
UK's Sam Ryder took second place – the UK's first time in the top three at the Eurovision songfestival in 20 years.
The singer was the best after the national jury vote with 283 points, but there was a huge wave of support for Ukraine in the public vote.
The UK had been waiting for a Eurovision win for a quarter of a century and announcing the winner was a nail-biter as it came down to the final vote.
Russia was excluded from the competition this year in response to the invasion of Ukraine.
Ukrainian President Volodymyr Zelenskyy praised Ukraine's victory, telling the world in his overnight address: "Our courage impresses the world, our music conquers Europe!
"I am sure that our victorious chord in the battle with the enemy is not far off.
"Glory to Ukraine!"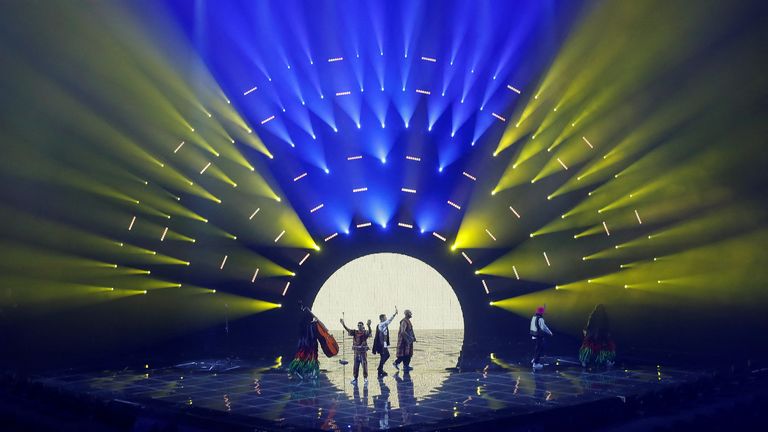 Ukraine was widely tipped to take the title and overnight there was a huge wave of support from all over Europe for the war-torn country. Nearly all participants carried Ukrainian flags in addition to their own flags.
After their performance, they made a passionate plea to free people who were still trapped in the besieged Mariupol steel factory.
"Help Azovstal, right now," said Kalush Orchestra frontman Oleg Psiuk.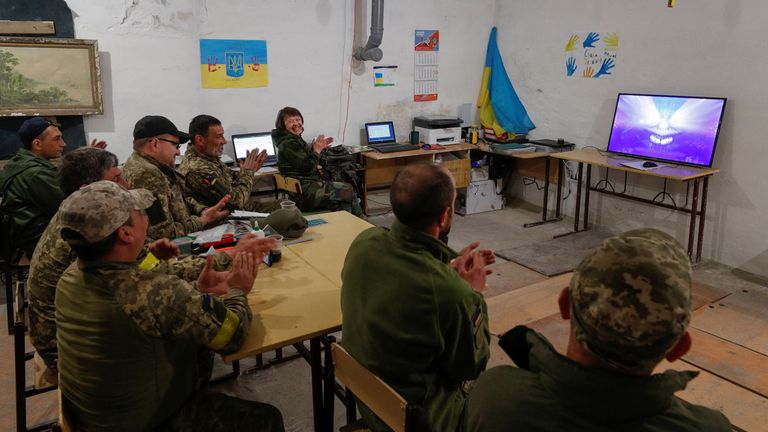 Winners ready to return home and fight
Psiuk later told a press conference that the band would soon return to Ukraine.
"We have temporary permission to be here and it ends in two days and we will be back in Ukraine in exactly two days.
"It's hard to say exactly what I'm going to do because this is my first time winning the Eurovision Song Contest, but like any Ukrainian we are ready to fight as much as possible and carry on to the end."
Hundreds of millions of people across Europe tuned in for one of the world's most watched TV events, with a song about Meghan Markle and a song called Give That Wolf A Banana among the 25 finalists.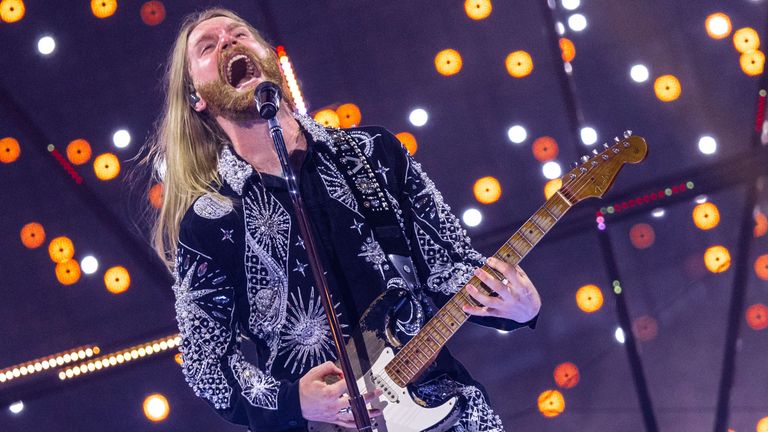 Ryder ecstatic about result
Sam Ryder narrowly missed Katrina and the Waves and Bucks Fizz to give the UK its sixth win since 1957.
But he was ecstatic about the result: "There is so much gratitude, what an experience," he said.
His journey to Turin started during the lockdown, when he started singing on TikTok and amassed 12 million followers on the app.
He was chosen by the BBC and industry experts to lead the UK delegation, after years of disappointing results at the competition – including: last year's 'zero points'†