Article content
A Stittsville couple said they were stunned after receiving a certified letter from the Ottawa Bylaws Department asking them to move their small library or face a fine or charge.
Article content
"It's a sad day at Amethyst Crescent," Wendy Chayter wrote on a community Facebook page. "Someone has complained to By-law about our small library and as a result we are forced to move it from the end of our yard or we will be sued."
The Little Library, a popular spot since the couple placed it on their lawn on a quiet street last year, has now moved to their front porch.
Chayter says he has no idea who complained or what the nature of the complaint was.
"I am saddened by the fact that someone would choose to file a complaint with the By-law instead of talking to us directly to let us know they had a problem with our library."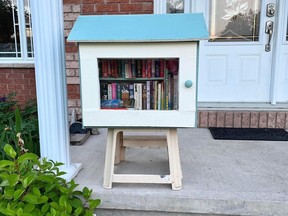 The city said they were required to put it no closer than 4.5 meters from the curb and it is too close. Hayter said they placed it about four feet from the curb. She said that seemed like a reasonable distance that wouldn't get in the way of snowploughs or obstruct visibility, but would be close enough that people would take advantage of it.
Article content
She said she's seen others in the city closer than 4.5 meters to the curb, but was told by the city to move that distance because there had been a complaint.
"I'm hurt because we tried to do something nice for the community, but this complaint makes it harder for people to enjoy it."
She said the library has been used a lot since they set it up last summer.
"They are popping up more and more and everyone seems to love them. It's something we've always wanted to do."
Chayter said she is concerned that people will not use the library if it is too far from the street because they are hesitant to walk on private property.
She said the statute letter said the library is considered a "objection/damage" highway. She said they are trying to find a solution. For now, it's on their porch.
The municipality did not immediately respond to a request for more information.