The weekend weather looks a little boggy for Metro Vancouver, with rain starting Saturday afternoon and continuing through Sunday morning.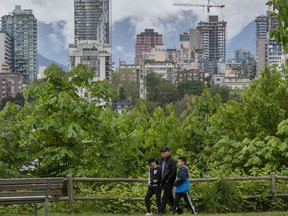 Article content
VANCOUVER, B.C.: Saturday, June 4. Today's weather is expected to start out mostly cloudy, followed by a good chance of rain later in the afternoon, with a high of 19C, according to Environment and Climate Change Canada. Expect up to 10 millimeters of rain overnight, with a minimum of 13 C and then likely to start with rain on Sunday, and the chance of showers in the afternoon decreases, with a maximum of 17 C. Then it looks like the week will start with Chance of showers on Monday, followed by sunshine on Tuesday, maximums of 17 C and 19 C respectively. Then it should be a mix of sun and clouds for Wednesday before possible showers on Thursday and Friday.
Article content
---
Weather: Vancouver, BC
Today: Mostly cloudy, with a 30 percent chance of showers early this morning and a 70 percent chance of rain this afternoon. Wind southeast 20 km/h. High 19 C. UV Index 6 or high.
This evening: Periods of rain. Quantity 5 to 10 mm. Wind east 20 km/h. Low 13 C.
Tomorrow: Periods of rain ending early in the afternoon, then cloudy with a 40 percent chance of showers. Quantity 10 to 15 mm. Wind southeast 20 km/h. High 17 C. UV Index 3 or moderate.
Source: Environment and Climate Change Canada
---
Air Quality: Vancouver
---
Traffic: Vancouver
Zoom in and out to find notable incidents or to peek at a traffic camera.
---