Kate Middleton and Prince William have their first official portrait painted together. the couple revealed this on Thursday during a visit to their eponymous county of Cambridgeshire in England.
The work is important in his composition as it follows the established line of traditional royal portraiture, historically used to imbue his subjects with an aura of royal power and longevity.
The full-length rendering of the couple, unveiled at the Fitzwilliam Museum, was painted by artist Jamie Coreth who previously painted William's aunt, Princess Anne. It was commissioned by the Cambridgeshire Royal Portrait Fund in 2021 as a gift to the county.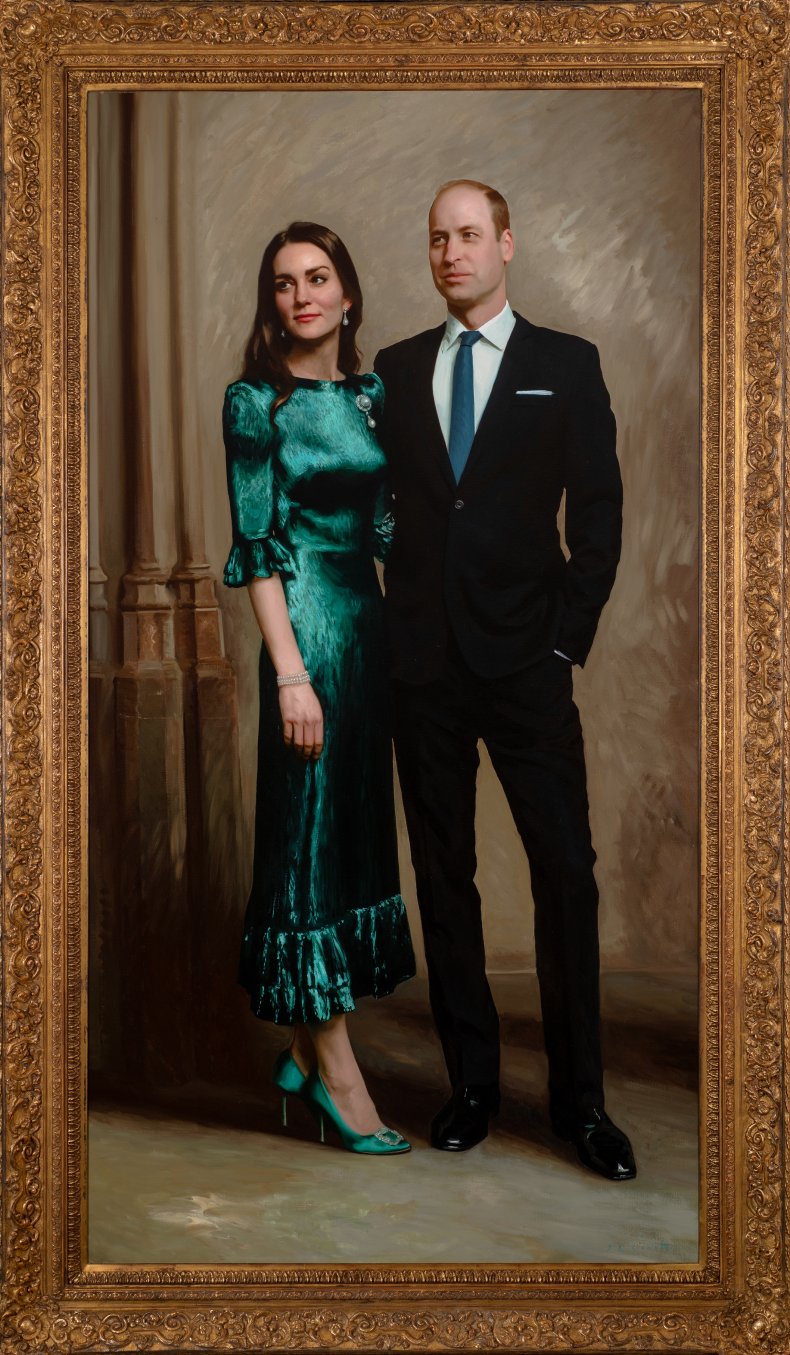 Speaking of the committee, Coreth said:
"It was the most extraordinary privilege of my life to be chosen to paint this painting. I wanted to show Their Royal Highnesses in a way that made them appear relaxed and approachable, as well as elegant and dignified.
"As this is the first portrait to show them together, and specifically during their time as the Duke and Duchess of Cambridge, I wanted the image to evoke a sense of balance between their public and private lives. The piece was commissioned as a gift for the people of Cambridgeshire, and I hope they will enjoy it as much as I had making it."
The focus of the image in terms of symbolism is fixed on Kate, who is shown with many items of cultural and historical significance.
First, despite the portrait being historical in theme and composition, the Duchess' dress is strikingly modern. The metallic silk blend midi dress with ruffle sleeves looks like a dress Kate wore by indie designer The Vampire's Wife.
The royal first debuted a shimmering green dress from the designer in 2020 during a visit to Ireland. Worn at a reception in Dublin hosted by the British Ambassador, Kate was praised for its patriotic nod with its Irish green colour.
This fashion choice was seen at the time as an example of Kate's diplomatic style of dressing, a style she developed during her married life and is a fitting dress to be recorded for posterity.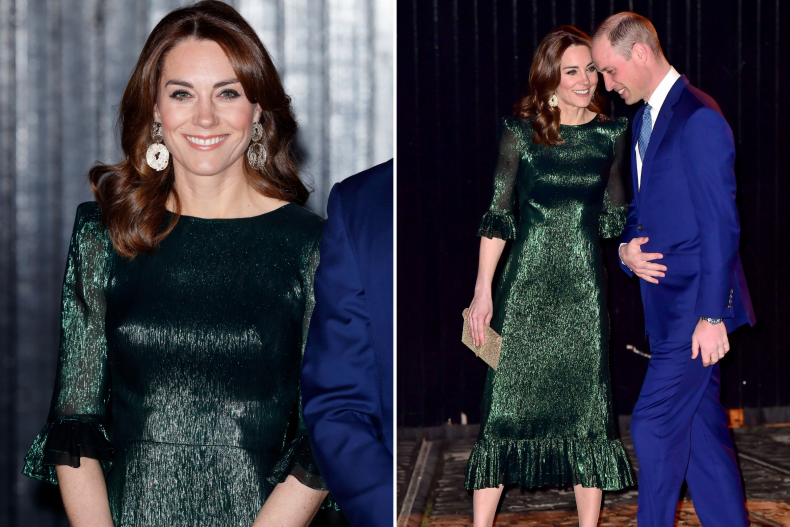 Aside from the ultra-modern dress, Kate also wears a pair of pop culture pumps in the form of what looks like Manolo Blahnik's "Hangisi" high heels.
This shoe style became famous in the movie version of the hit TV show Sex and the city featuring Sarah Jessica Parker's character, Carrie Bradshaw, receiving a pair instead of an engagement ring.
Blahnik 'Hangisi' pumps are currently priced at $1,125 and Kate's pair appears to be in the 'green satin' shade.
While her fashion may mark Kate as a modern day princess, the jewelry she wears in the portrait sends a strong royal dynastic message, previously worn by some of the most iconic women in the monarchy's millennial history.
Two important pieces of jewelry that were worn belonged to Kate's late mother-in-law, Princess Diana. These consist of a pair of earrings Diana gave as a wedding gift from her family jewelers on the occasion of her wedding in 1981 and a bracelet with three strands of pearls and diamonds.
Kate has often worn jewelry that used to belong to Diana to help the princess advance part of her and William's life. When the Prince gave Kate his mother's engagement ring with sapphire and diamond in 2010, he said:
"It's my mom's engagement ring. So I thought it was pretty fun because of course she won't be there to share all the fun and excitement of it all – this was my way of keeping her a little close to everything ."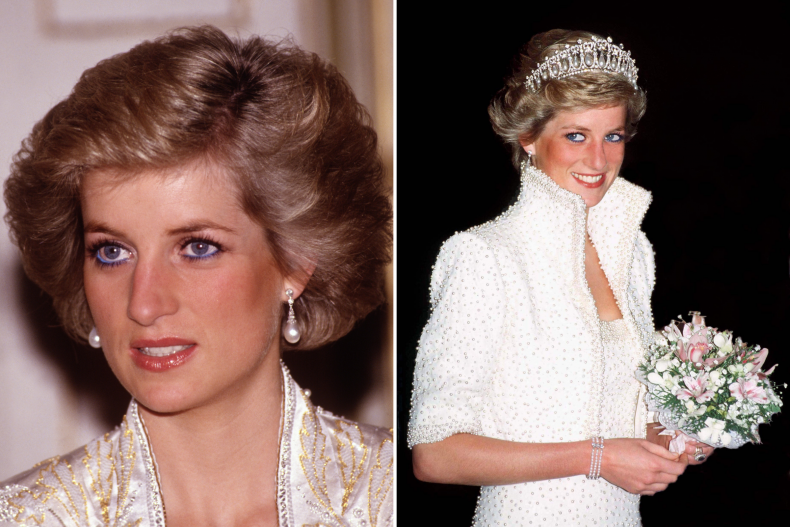 Perhaps the most important jewel that Kate wears in the portrait is a large brooch of pearls and diamonds with a pearl pendant known as "The Duchess of Cambridge brooch". It originally belonged to Princess Augusta, Duchess of Cambridge, daughter-in-law of King George III.
Augusta had a famous jewelry collection and after her death in 1889 at the age of 91 bequeathed the brooch to her daughter Princess Mary Adelaide of Teck, the great-grandmother of Queen Elizabeth II.
The Queen inherited the brooch in 1953 and has worn it with and without the pearl pendant throughout her reign.
Kate has often been given important pieces of jewelery from the Queen's own collection, seen as a mark of the monarch's respect and this loan of the Duchess of Cambridge's brooch to the current Duchess marks Kate's first time wearing the piece in public. .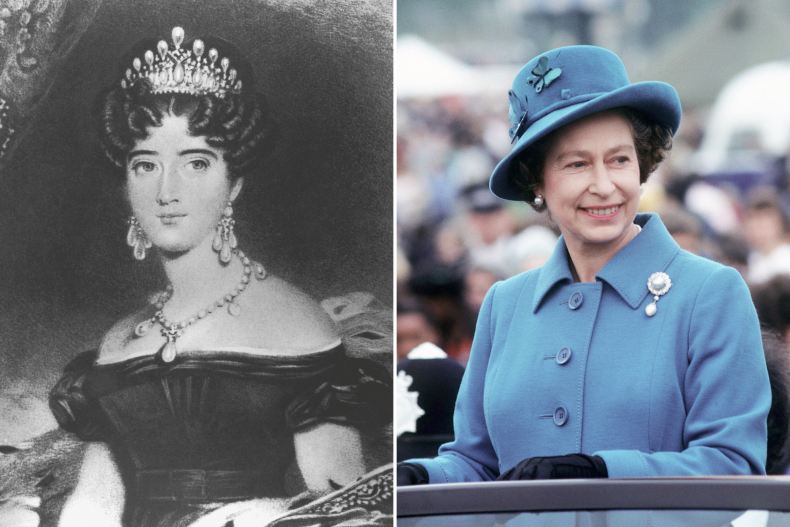 Kate is not the only part of the portrait to have added symbolism to their outfit, William also showed a sartorial nod to the county from which he takes his title by wearing a blue Cambridge tie.
Another notable element of the painting is the tactile composition of the portrait, showing Kate and William locked in each other's arms, portraying a strong and united couple.
These elements combine to create a picture of a modern royal team that, while anchored in a historical setting, also has many modern elements that they will take with them when they eventually take on the roles of king and queen.